Mon, May 31, 2010
Around the World, Desserts, DessertStalking, Europe, Foodgawker, France, Itsy Bitsy Foodies Sightings, Search by Course, TasteSpotting

Print This Recipe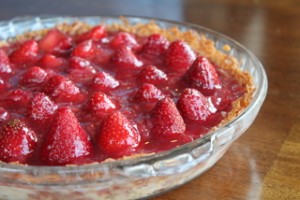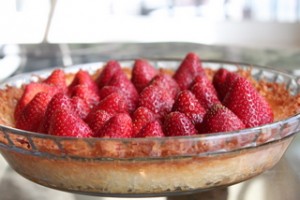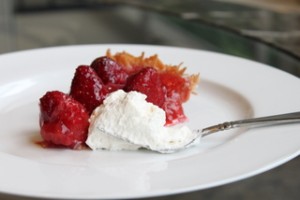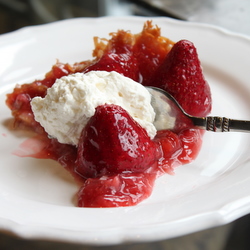 This recipe comes from my Great Aunt Gladys, and my mom has been making it since before I was born.  French Strawberry Glace Pies typically have a cream cheese or custard layer between the crust and the berries but I like this simplified and lighter version.  I also love the fact that it is filled with fresh, uncooked strawberries.  
My aunt traditionally made it with an easy coconut pie crust but I like to use my Coconut Macaroon Tartlet Shells for a chewier (and butter-less) crust.  You could also use a more standard pie crust of your choice.  Because it needs to chill for at least two hours, you can easily make this pie the day before.
Ingredients
Baked 9″ pie crust (Coconut Macaroon Crust or Easy Pie Crust)
Roughly 4 cups of whole strawberries, cleaned and stemmed
1 cup water, divided
1 cup sugar
3 Tbsp cornstarch
Remove the stems from the strawberries.
Arrange roughly 2 1/2 cups of whole strawberries – enough to cover the entire pie crust – stem side down, in the baked pie shell.
In a medium-sized sauce pan, bring the remaining berries (roughly 1 cup) and 2/3 cups water to a boil and let the mixture simmer for three minutes.  While stirring, gently break apart the berries.
In a separate bowl, combine the sugar, cornstarch and 1/3 cup water.  Stir it until smooth.  Add the mixture to the simmering berries and bring it to a boil.  Let it boil for 1-2 minutes or until thickened, stirring constantly.  Continue to break apart the berries so that it ends up being a fairly smooth glaze.  Remove it from the heat and let it cool for 5-10 minutes.
Pour the cooked mixture over the whole berries in the pie crust and refrigerate the pie for 2 hours or until it is firm.  (I make the pie the day before and let it chill over night.)
To serve, garnish the pie with homemade whipped cream.
*For the Easy Coconut Crust, mix 1/3 cup melted butter and 2 1/2 cups flaked coconut.  Press the mixture into a 9″ pie pan and bake it at 300 degrees for 30 minutes or until golden brown.  If the edges start to become too dark, cover the crust with a piece of foil while it finishes baking.
Tags: coconut, homemade whipped cream, strawberries, sugar