Thu, May 27, 2010
Desserts, DessertStalking, Foodbuzz Top 9, Foodgawker, Itsy Bitsy Foodies Sightings, Photograzing, Pies & Tarts, Search by Course, TasteSpotting

Print This Recipe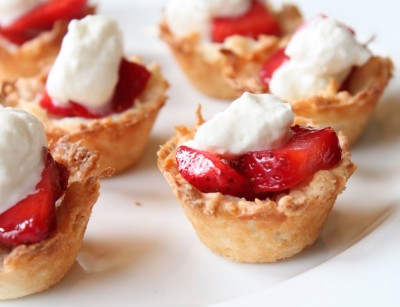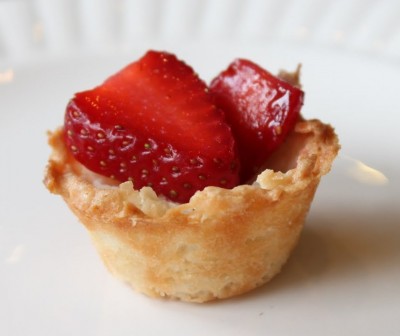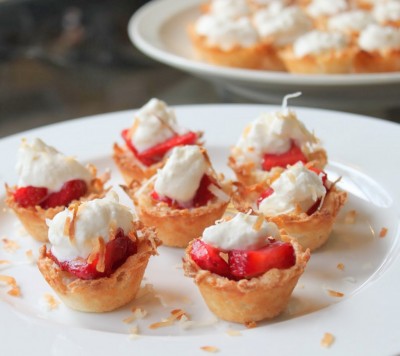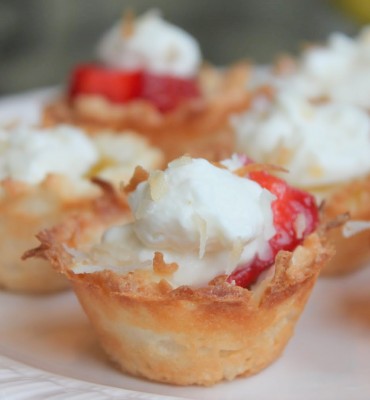 I love the coconut macaroon tart shells from the lemon coconut macaroon tartlets so much that I decided to fill them with a simple combo of sliced strawberries and homemade whipped cream.  I made them using miniature muffin tins but you could use regular-sized muffin tins or even a standard 9-inch pie pan.  They are light, refreshing, and offer an alternative to strawberry shortcake when strawberries are in season.

Strawberry Coconut Macaroon Tartlets
Author:
Itsy Bitsy Foodies
Prep time:
Cook time:
Total time:
These tartlets are light, refreshing, and offer an alternative to strawberry shortcake when strawberries are in season.
Ingredients
Coconut Macaroon Tart Shells
2 cups coconut flakes
½ cup sugar
¼ cup plus 2 Tbsp flour
1 tsp vanilla extract
2 egg whites
Homemade Whipped Cream
½ pint of heavy whipping cream
½ – 1 tsp vanilla, to taste
½ Tbsp sugar, to taste
Strawberries, sliced
Toasted coconut flakes
Instructions
Coconut Macaroon Tart Shells
Combine the coconut, sugar, flour, vanilla and egg whites in a bowl.
Spoon the mixture into greased mini muffin tins.
Press the coconut mixture into the bottom and up the sides to form a thin crust.
Bake the tart shells at 375 degrees for 15 minutes or until the edges are lightly browned. (Be careful not to overbake them.)
Let them cool for a couple of minutes on a wire rack.
Then, gently run a knife around the edges to loosen them from the pan and remove them from the muffin tins.
Let them cool completely on a wire rack.
Toasted Coconut
Sprinkle coconut flakes on a baking pan.
Bake at 375 degrees for several minutes until they are lightly golden.
Watch them carefully and stir them often to ensure that they don't overbake.
Remove them from the oven and let them cool on the pan. (The flakes will harden and crisp up as they cool.)
Homemade Whipped Cream
Mix the ingredients together.
Beat them on high using a hand-held mixer or a KitchenAid mixer with the whisk attachment until the cream transforms into fluffy peaks.
Tartlets
Place 2-3 strawberry slices in each coconut macaroon tart shell.
Top the strawberries with homemade whipped cream and garnish with toasted coconut flakes.
It is best to store the macaroons separate from the strawberries and whipped cream and assemble them to order so that they don't get soggy. If you have any assembled tartlets left over, you can refrigerate them in a sealed container.
Coconut Macaroon Tart Shell recipe source: Cooking Light Five Star Recipes: The Best of 10 Years
Subscribe to Cooking Light: Cooking Light (1-year)
Tags: coconut, coconut macaroons, fruit tart, mini tarts, strawberries, whipped cream