Print This Recipe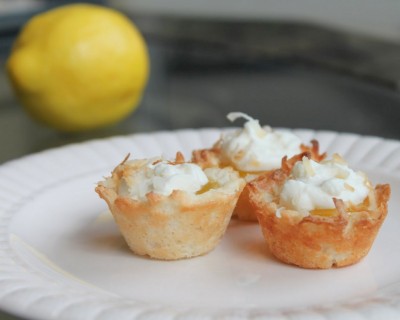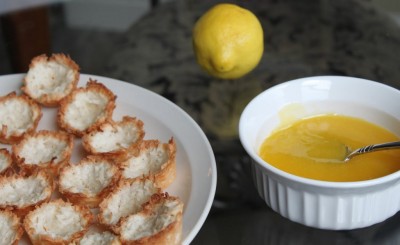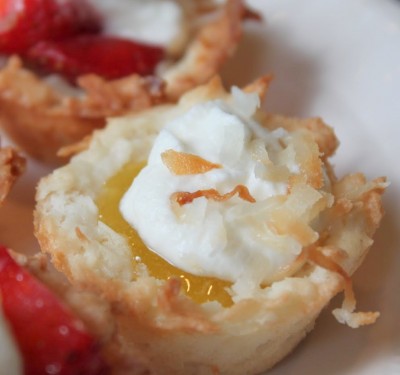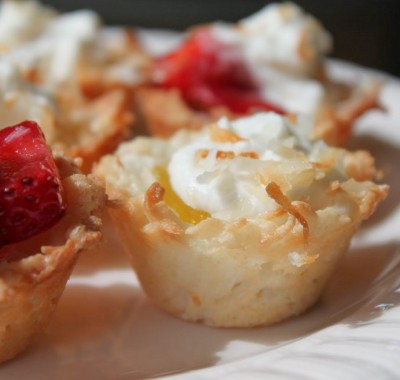 I have been making these lemon coconut macaroon tartlets for a long time {since high school, in fact} and they have never let me down.  For my high school graduation project I served them to the teachers and everyone else in the audience.  {It's funny how life has come full circle in a way.  My presentation was about how I wanted to combine my interests in cooking, traveling and languages to create a career.  It's taken me many years to get here, but now I'm actually writing about these tartlets on my cooking blog!}
I have made slight modifications to the recipe, which originally came from Cooking Light.  I use homemade whipped cream and make them in miniature rather than using regular-sized muffin tins.  I have filled the coconut macaroon tart shells with many things but this version is the classic one.  They are bite-sized, refreshing and the perfect combination of sweet, creamy and tart.  

Lemon Coconut Macaroon Tartlets
Author:
Itsy Bitsy Foodies
Prep time:
Cook time:
Total time:
These lemon coconut macaroon tartlets are the perfect combination of sweet, creamy and tart.
Ingredients
Lemon Filling
¾ cup sugar
1 Tbsp plus 2 tsp cornstarch
½ tsp grated lemon rind
⅓ cup water
⅓ cup fresh lemon juice
1 egg
Coconut Macaroon Tart Shells
2 cups coconut flakes
½ cup sugar
¼ cup plus 2 Tbsp flour
1 tsp vanilla extract
2 egg whites
Homemade Whipped Cream
½ pint of heavy whipping cream
½ – 1 tsp vanilla, to taste
½ Tbsp sugar, to taste
Toasted coconut flakes
Instructions
Lemon Filling
Combine the sugar, cornstarch and lemon rind in a sauce pan.
Gradually whisk in the water and lemon juice.
Bring the mixture to a boil over medium heat and let it cook for 1 minute, stirring it constantly.
Beat the egg in a separate bowl.
Gradually pour ¼ of the hot lemon mixture into the egg, stirring the egg constantly so that it doesn't cook.
Once it is blended together, stir the egg back into the rest of the lemon mixture and cook it over medium heat until it thickens.
Pour the lemon filling into a bowl and let it cool.
Once cooled, you can cover the lemon filling with plastic wrap and let it chill in the refrigerator until you are ready to fill the macaroon tart shells.
Coconut Macaroon Tart Shells
Combine the coconut, sugar, flour, vanilla and egg whites in a bowl.
Spoon the mixture into greased mini muffin tins.
Press the coconut mixture into the bottom and up the sides to form a thin crust.
Bake the tart shells at 375 degrees for 15 minutes or until the edges are lightly browned. (Be careful not to over bake them.)
Let them cool for a couple of minutes on a wire rack.
Then, gently run a knife around the edges to loosen them from the pan and remove them from the muffin tins.
Let them cool completely on a wire rack.
Toasted Coconut
Sprinkle coconut flakes on a baking pan.
Bake them at 375 degrees for several minutes until they are lightly golden.
Watch them carefully and stir them often to ensure that they don't over bake.
Remove them from the oven and let them cool on the pan. (The flakes will harden and crisp up as they cool.)
Homemade Whipped Cream
Mix the cream, sugar and vanilla together.
Beat them on high using a hand-held mixer or a KitchenAid mixer with the whisk attachment until the cream transforms into fluffy peaks.
Tartlets
Spoon approximately one teaspoon of lemon filling into each coconut macaroon tart shell.
Top with homemade whipped cream and sprinkle with toasted coconut flakes.
It is best to store the macaroons separately from the lemon filling and assemble them to order so that they don't get soggy. If you have any assembled tartlets left over, refrigerate them in a sealed container.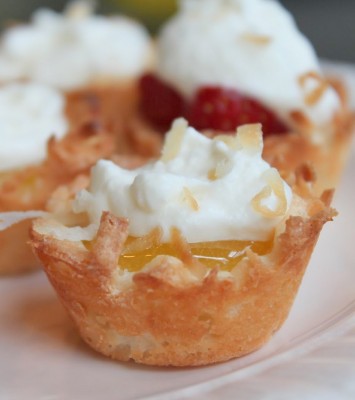 Recipe source: Cooking Light Five Star Recipes: The Best of 10 Years
Subscribe to Cooking Light: Cooking Light (1-year)
Tags: baking, coconut, coconut macaroon, lemon curd, lemon filling, lemon juice, mini tarts, tarts, whipped cream