Print This Recipe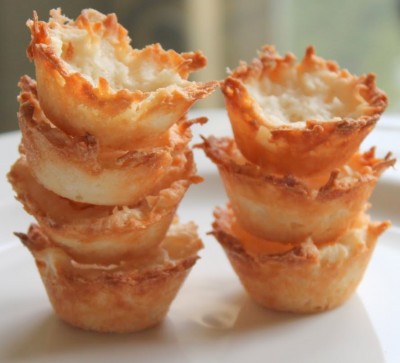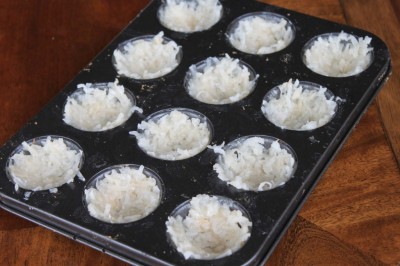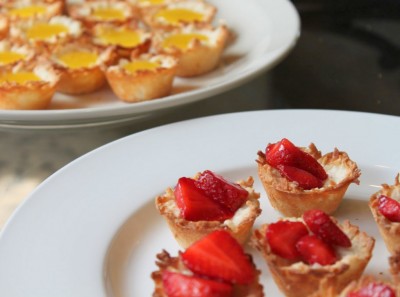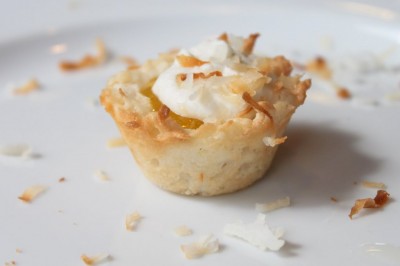 This recipe comes from Cooking Light.  I usually use it to make lemon coconut macaroon tartlets and strawberry coconut macaroon tartlets but it would be a great crust for other pies and tarts as well.  It is quick and easy to mix together and press into the pans.  Fill the tart shells with pudding, fruit or any other filling of your choice.

Coconut Macaroon Tart Shells
Author:
Itsy Bitsy Foodies
Prep time:
Cook time:
Total time:
These sweet, chewy tart shells are like coconut macaroon cookies so they actually taste great plain. You can fill them with just about any pie or tart filling for a yummy dessert.
Ingredients
2 cups coconut flakes
½ cup sugar
¼ cup plus 2 Tbsp flour
1 tsp vanilla extract
2 egg whites
Instructions
Combine the coconut, sugar, flour, vanilla and egg whites in a bowl.
Spoon the mixture into a greased pie pan, muffin tins or mini muffin tins.
Press the coconut mixture into the bottom of the pan and up the sides to form a thin crust.
Bake the macaroon tart shells at 375 degrees for 15 minutes or until the edges are lightly browned. (Be careful not to over bake them.)
Let them cool for a couple of minutes on a wire rack.
If you are making tartlets in muffin pans or mini muffin pans, gently run a knife around the edges to loosen the tart shells from the pan and then remove them from the muffin tins.
Let them cool completely on a wire rack.
Store the macaroon tart shells in a sealed container. They can be made in advance.
This recipe makes approximately 25-30 mini tart shells, 12 regular-sized tart shells or 1 pie crust.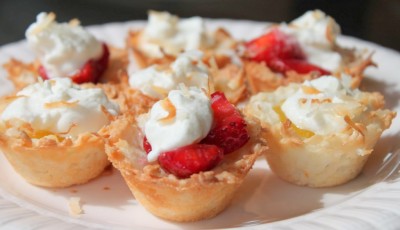 Recipe Source: Cooking Light Five Star Recipes: The Best of 10 Years
Subscribe to Cooking Light: Cooking Light (1-year)
Tags: coconut, coconut flakes, coconut macaroons, pie crust, vanilla