Tue, Jun 1, 2010
Appetizers, Around the World, Disguising Healthy Foods, Europe, Italy, Itsy Bitsy Foodies Sightings, Main Dishes, Search by Course, TasteSpotting

Print This Recipe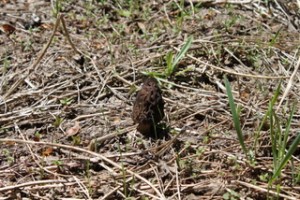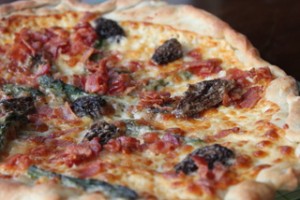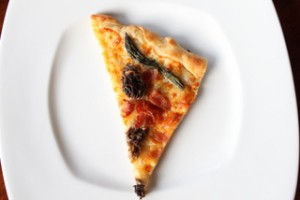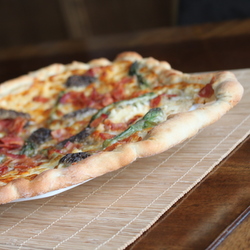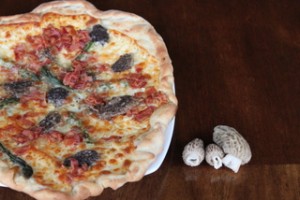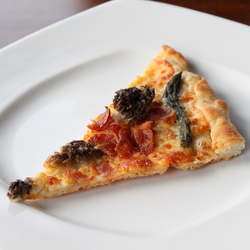 My husband and I recently had the opportunity to go morel mushroom hunting, so we threw our son in our hiking backpack and headed out into the woods.  It was like an adult Easter egg hunt.  For more information on morel mushrooms and morel hunting, visit The Great Morel website.
After an afternoon of scouring the woods and with a bag of freshly-picked morel mushrooms, I decided to make a morel mushroom pizza to pair with a morel mushroom risotto.  The subtle earthiness of the morels was a perfect match for the saltiness of the bacon.
Ingredients
1 Tbsp olive oil
1 cup fresh Mozzarella cheese slices
1/2 cup grated Provolone cheese
1/2 cup grated Parmesan cheese
1/2 – 3/4 cup chopped bacon
5-7 asparagus heads
5-7 morel mushrooms, cut in half
1 tsp butter
1/4 salt, to taste
Dash of black pepper, to taste
Sauté the asparagus spears and morel mushrooms in 1 tsp butter over medium heat for roughly 5 minutes, until tender.  Season with salt and pepper, to taste.
Place four strips of bacon on a plate lined with paper towels.  Cover them with additional paper towels and microwave them for two minutes.  Flip the bacon strips, and microwave them for 2 more minutes or until the bacon is done.  Pat the excess grease from the bacon with the paper towels.  Once it is cool enough to handle, chop it into bite-sized pieces.
Roll out your pizza dough to form a 10- or 12- inch pizza crust.  Brush the dough with roughly 1 Tbsp olive oil.  Arrange the fresh Mozzarella cheese slices on the crust and sprinkle it with the Provolone and Parmesan cheeses.  Top with the cooked morel slices, asparagus spears and chopped bacon.
Pre-heat your oven or BBQ to 550 degrees or the highest temperature.  Place the pizza on a pre-heated pizza stone or a pan with holes and bake it for 7-10 minutes (depending on the heat of the oven) until the cheese is bubbling and the crust is golden brown.
Tags: asparagus, bacon, morel mushrooms, mozzarella cheese, pizza crust