Print This Recipe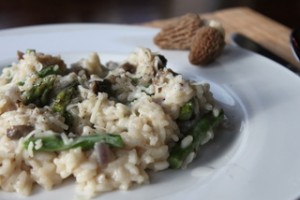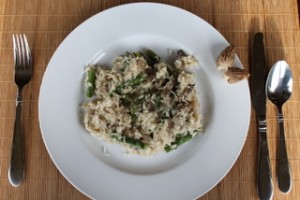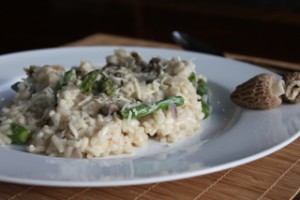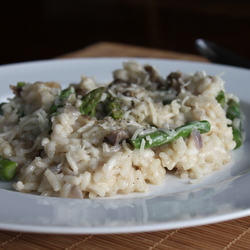 Risottois a classic Italian rice dish and literally means "little rice" in Italian.  It is traditionally made with short-grain rice (such as Arborio rice), chicken broth, Parmesan cheese and other vegetables or meats of your choice.  I used Romano cheese because that was what I had on hand.  Properly-cooked risotto should be rich, creamy and al dente (tenderly resistant with each bite).
One of my favorite comfort foods is mushroom risotto, so when we came home from morel mushroom hunting with a bag of morels, I couldn't wait to try morel risotto.  I happened to have some local asparagus so I added it to the mix.  If you don't have morel mushrooms, you can substitute another mushroom of your choice.  I served morel & bacon pizza with my risotto.
Ingredients
1 Tbsp olive oil
2 cups Arborio rice
1/2 cup chopped onion
2 garlic cloves, minced
1 cup fresh Romano or Parmesan cheese
8 cups low-sodium chicken broth
3/4 cup asparagus pieces (cut in roughly 1-inch pieces)
3/4 cup sliced morel mushrooms
1 tsp butter
1/2 tsp salt, to taste
1/4 tsp black pepper, to taste
In a sauce pan, heat the chicken broth at medium heat until it is lightly boiling.  Then, reduce the heat and let the broth simmer on low while you finish making the rice.
Heat the olive oil in a large pan over medium heat.  Sauté the onion and garlic for 5 minutes, or until soft and translucent.  Add the Arborio rice and stir for 2-3 minutes to lightly brown the rice.  Add 1 cup of simmering chicken broth and stir the rice until the liquid is just about fully absorbed.  Add another cup of simmering chicken broth and repeat the process until the rice is almost done cooking.
In a separate pan, sauté the morel mushroom and asparagus pieces in 1 tsp butter over medium heat for several minutes until they are tender.  Sprinkle them with a dash of salt and pepper.
Once the risotto is almost done, stir in 1 cup of fresh Romano cheese and the cooked mushroom and asparagus pieces.  Continue cooking it until the cheese is melted, the risotto is creamy and al dente (tender yet firm) and the vegetables are warmed through.  Season the dish with salt and black pepper to taste.  Sprinkle each serving with fresh Romano cheese.
Tags: Arborio rice, asparagus, morel mushrooms, parmesan cheese, Romano cheese