Fri, Aug 20, 2010
Appetizers, Around the World, Disguising Healthy Foods, Europe, Foodgawker, Itsy Bitsy Foodies Sightings, Main Dishes, North America, Quick n' Easy, Search by Course, Spain, United States

Print This Recipe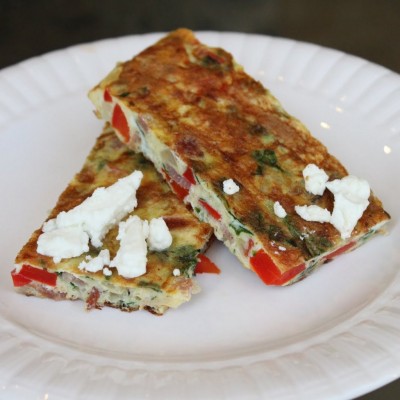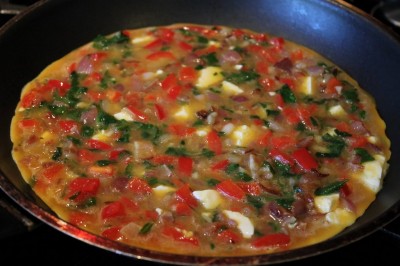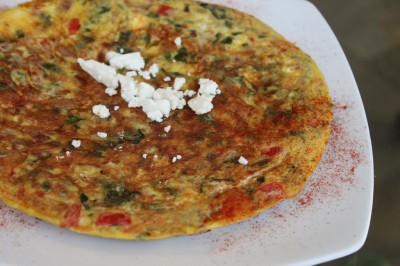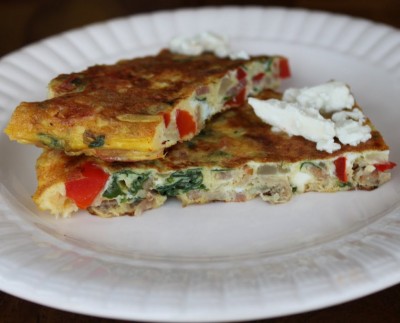 Frittatas and Spanish tortillas are very similar.  They are by nature lighter than quiches because they don't have a buttery crust or heavy cream.  A common version of the tortilla española is made with a simple combination of eggs and potato (Tortilla de Patatas).  In this rendition, I added spinach, feta cheese, bacon and red bell pepper.  Serve this dish warm or cold, as an appetizer or with a green salad as a main course.
Ingredients
1 red bell pepper, chopped
2 garlic cloves, minced
1/4 cup chopped onion
1 cup chopped spinach
1/4 cup crumbled feta
4 strips of bacon, cooked and chopped
5 eggs
1/4 tsp salt
1 cooked potato, thinly sliced, optional
Cook the bacon in the microwave or on a broiling pan in the oven for several minutes or until it is crispy.  Let it cool and then chop it into small pieces.
Lightly coat a pan with olive oil and heat it over medium heat.  Sauté the red bell pepper, garlic and onion for 5 minutes.  Add the chopped spinach and continue cooking the mixture until the pepper, garlic and onion are tender and the spinach is wilted.
Remove the pan from the heat and let the veggie mixture cool for 5 minutes.  Beat the eggs and the salt in a shallow bowl.  Then, add the veggies, chopped bacon and crumbled feta to the eggs and stir it to combine.
Pour the egg mixture into a shallow pan that is lightyl coated with olive oil and heat it over medium-low heat for 10 minutes, or until the bottom is turning golden and the top is beginning to set.  Then, remove the pan from the  heat and gently slide the half-cooked tortilla onto a plate.  Cover the plate with the pan.  Holding the pan and the plate together, quickly flip the plate so that the tortilla flips back into the pan, allowing the top to cook.  Finish cooking the tortilla for 5-10 minutes, or until both sides are golden and the egg is fully cooked.
Gently slide the cooked tortilla onto a plate and slice it.  Serve it warm or chilled.
Tags: bacon, eggs, feta, red bell pepper, spinach