Tue, Apr 20, 2010
Appetizers, Around the World, Disguising Healthy Foods, Europe, Main Dishes, Quick n' Easy, Search by Course, Side Dishes, Snacks, Spain, Vegetarian

Print This Recipe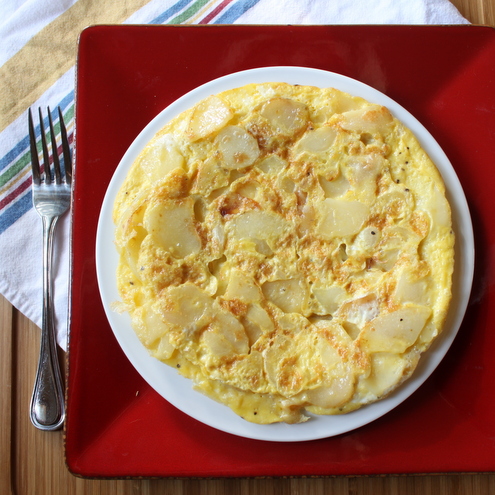 The tortilla española is similar to a frittata and nothing like the tortillas used in Mexican food.  You can find tortillas of many varieties throughout Spain.  They are commonly served as a tapas or as "fast food," either alone or in a baguette as a bocadillo (sandwich).  One of the most popular kinds of tortilla is the tortilla de patatas, filled with thinly sliced potatoes.
I recently made a tortilla de patatas with a leftover baked potato.  I thinly sliced the baked potato and pan-fried the slices with the onions.  Because the potato was already cooked, it only took a couple of minutes to be warmed and ready.  It was a great tapas at our Spanish-themed meal.
Tortillas are easy to make and you can add the veggies and meats of your choice.  My roommate in Spain taught me how to make this basic version.  I also referenced the incredible culinary coffee table book: Culinaria Spain
.

Author:
Itsy Bitsy Foodies
Prep time:
Cook time:
Total time:
Tortillas de patatas, filled with thinly sliced potatoes, are one of the most popular kinds of tortilla that you will find but you can also add the veggies and meats of your choice.
Ingredients
1 potato, thinly sliced
¼ onion, chopped
1 clove garlic, chopped
3 eggs
¼ tsp salt
Instructions
Heat 1 Tbsp olive oil in a pan over medium heat.
Add the thinly sliced potatoes and pan-fry them until they are tender and light golden brown.
Add the onion and garlic and sauté them until they are also tender.
Remove the veggie mix from the heat.
Beat the eggs in a bowl and season them with salt.
Stir the warm potato mixture into the beaten eggs.
Lightly coat a small pan with olive oil and heat it over medium heat.
Pour the potato-egg mixture into the pan.
Once the bottom is browned, flip the tortilla to cook the other side.
Because the top will still be slightly runny, slide the half-cooked tortilla onto a plate.
Cover the tortilla with another plate and quickly flip the plates to turn the tortilla over. Then, gently slide the tortilla back into the pan to continue cooking it on the other side. Cook it on low heat to allow the center of the tortilla to cook.
Once it is done, increase the heat to medium to brown the tortilla.
Slide the tortilla de patatas onto a plate and serve it warm.
You can also slice it and serve it in a baguette for a quick and tasty sandwich.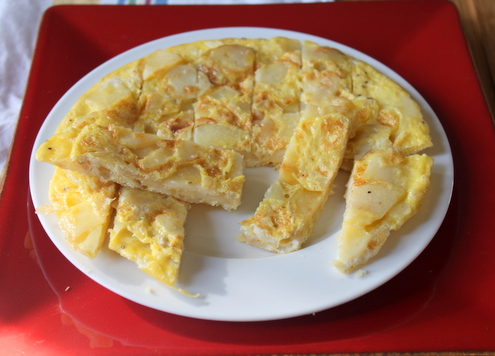 Tags: eggs, frittata, garlic, onions, potatoes, Spain, Spanish food, spanish tortilla, tortilla espanola