Print This Recipe
This can be a hearty meal in it of itself or served as a side dish.  It's a great way to feed your family veggies because the turkey chili is loaded with them.  Plus, the potatoes are baked so this rendition of chili cheese fries offers a healthier alternative to the standard dish.
Ingredients
1 Russet potato, julienned into matchstick pieces
2 garlic cloves, minced, optional
BBQ Chicken Chili, made with ground turkey
Grated Colby Jack cheese
2-3 Tbsp light sour cream
1-2 Tbsp chopped red onion
Rinse and scrub the potato.  Peel the skin off, unless you are using an organic potato and would like the nutrients of the skin.  Cut the potato into matchstick pieces and place them in a bowl of cold water to soak for 30 minutes.
Lightly coat a baking sheet with cooking oil and arrange the potato strips evenly on the pan, so that they do not overlap.  If desired, lightly brush each potato strip with oil.  Sprinkle salt over the potatoes.
Bake the potatoes at 450 degrees for 7-10 minutes on each side, or until the fries are golden and tender.  If you want garlic fries, toss the minced garlic with the fries when you flip them over to bake on the other side.  Continue baking them until they are done.
Place the french fries on a plate and cover them with grated cheese.  Spoon turkey chili over the cheese and sprinkle cheese and chopped onion on top.  Add a dollop or two of light sour cream if desired.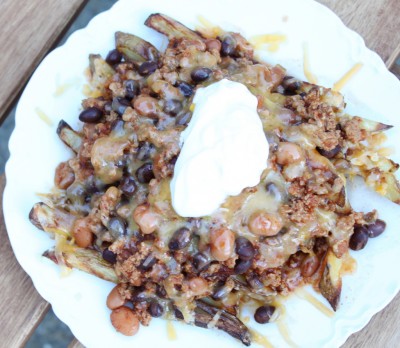 Tags: cheese, garlic, ground turkey, onions, potatoes, sour cream, turkey chili