Thu, Apr 22, 2010
541Live, Appetizers, Around the World, Chicken & Turkey, Cooking Projects, Disguising Healthy Foods, Foodgawker, Fun Family Activities, Itsy Bitsy Foodies Sightings, Main Dishes, North America, Photograzing, Search by Course, Steak & Beef, TasteSpotting, United States

Print This Recipe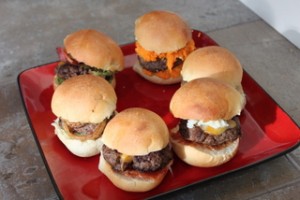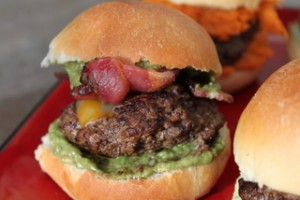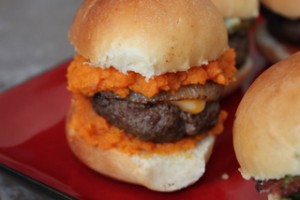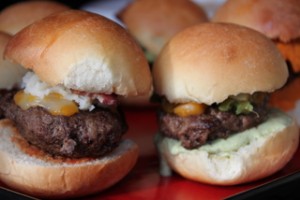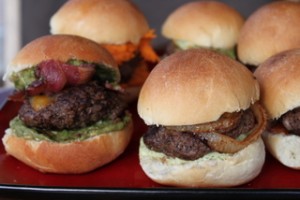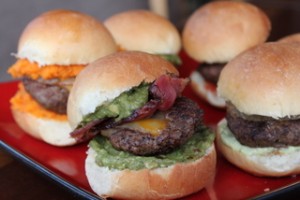 Make an assortment of mini hamburgers for a party or a fun family meal.  Lay out a smorgasbord of toppings and let everyone build their own slider.  You can buy the rolls of your choice or make your own, which is surprisingly simple to do. 
The following slider ideas are topping combos that we enjoyed.  Serve the mini burgers with fruit salad, potato salad, french fries or sweet potato fries.
Ingredients
1 pound ground beef, turkey or chicken
1 Tbsp low-sodium soy sauce
2 tsp garlic powder
1/2 tsp paprika
1 Tbsp grated cheese, optional
Cheese slices (such as Cheddar or Colby Jack)
Mix the ground meat with the soy sauce and spices.  Stir in 1 Tbsp cheese if desired.  Form into small patties.  (We made six sliders with 1 pound of meat.)  Grill on the BBQ until the meat is fully cooked.
Bacon & Guacamole Slider
Bacon strips, cooked
Colby Jack cheese slice
Blue cheese crumbles, optional
Sweet Potato & Caramelized Onion Slider
Caramelized Onions
Cheese slice
*Bake the sweet potatoes/yams at 400 degrees for an hour or until soft.  As soon as they are cool enough to handle, peel and mash them.  You can add milk, butter and/or brown sugar but we usually leave them plain because they are naturally moist and sweet.
*Slice the onion(s) in rings.  (We like using purple onions and sweet onions.)  Lightly coat a pan with vegetable oil and heat over medium heat.  Cook the onion rings until they are golden and tender.
Bacon & Mashers Slider
Bacon strips, cooked
Ketchup
Cheese slice
Sweet & Spicy Slider
Caramelized Onions
Cheese slice
Southwest Slider
Roasted green chile
Cheese slice
Tags: bacon, cheese, ground beef, guacamole, onions, potatoes, salsa, sour cream, sweet potatoes