Print This Recipe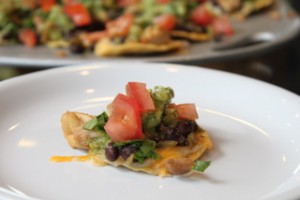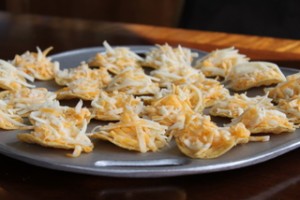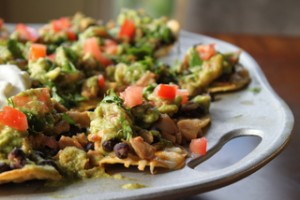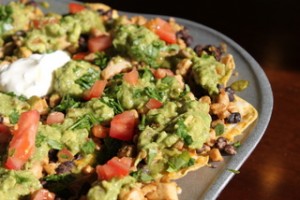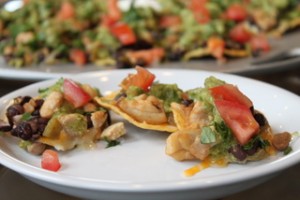 My family has come to the conclusion that the best nachos we've ever had are from…home.  In our opinion, these nachos are better than restaurant quality because each chip is loaded with toppings so that nobody complains about the pile of plain chips underneath the top layer of nachos.  And if you're serving this meal family-style or as an appetizer, the nacho sliders are easy to eat because each chip has a little something of everything. 
The key is to use homemade guacamole and salsa, and to marinate the chicken.  But even if you're short on time and choose to use store-bought versions of the ingredients, serving "sliders" is a great way to present your nachos. 
Ingredients
20-30 round tortilla chips, depending on the size of your pan
Grated Colby Jack cheese or a blend of Jack, Cheddar and Pepper Jack cheeses
Lime chicken, chopped in bite-sized pieces
1 can of black beans, drained and rinsed
1 small can of diced green chiles
Light sour cream
Cilantro, chopped
1 tomato, chopped
Prepare the lime chicken and chop it into bite-sized pieces.  Mix the drained black beans with the diced green chiles and let them simmer for several minutes over medium-low heat.
Place the tortilla chips in one layer on a baking sheet.  Cover each chip generously with grated cheese.  Then spoon some beans and chicken onto each chip.  Bake the chips and cheese at 350 degrees for 10 minutes or until the cheese is melted and beginning to bubble.
Remove the pan from the oven and finish topping each chip with the remaining ingredients: salsa verde, light sour cream, chopped cilantro and chopped tomatoes.
Tags: black beans, cheese, guacamole, salsa, tortilla chips