Print This Recipe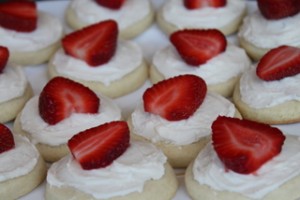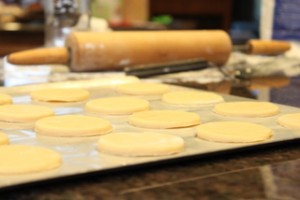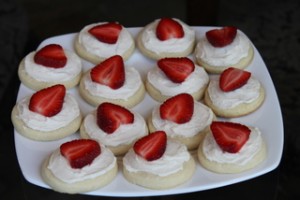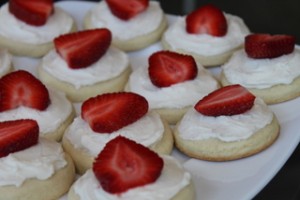 These cookies are reminiscent of strawberry shortcake and offer another way to use fresh strawberries when they are in season.  They are simple yet striking, and extremely easy to decorate.  I love the fact that the strawberries give them a natural splash of bright red so there's no need to use sprinkles or food coloring.  I used my Puffy Sugar Cookie recipe but any sugar cookie would work. 
Ingredients
Sliced strawberries
Roll the cookie dough out to roughly 1/4-inch thickness and cut it into circles.  (I used the rim of a glass as a cookie cutter.)
Place the cookies on a greased baking sheet and bake them according to the directions in the sugar cookie recipe, so that they are still soft and the bottoms are light golden brown.
Remove the cookies from the oven and let them cool for 5 minutes on the pan.  Transfer them to a wire rack and let them cool completely.
Ice the cookies generously with white buttercream frosting and top each cookie with a strawberry slice.