Print This Recipe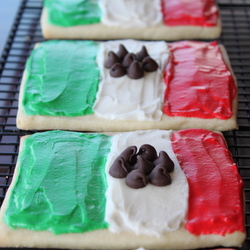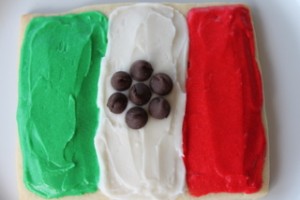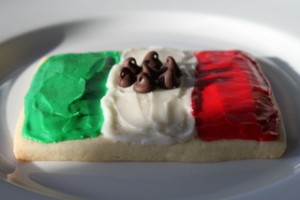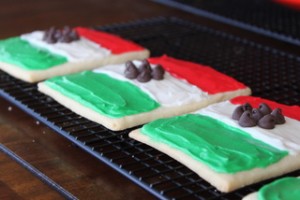 I recently hosted a cooking class for kids in honor of Cinco de Mayo.  As part of the educational aspect of the class, I made flag sugar cookies and let the chefs decorate them like the Mexican flag.
I didn't have a flag cookie cutter so I used one side of a cardboard pudding box wrapped in plastic wrap as a template and a pizza cutter to cut the shapes.  It worked great!
Ingredients
Buttercream frosting, divided into 3 equal portions
Chocolate chips
Red and green food coloring
Roll out the sugar cookie dough to 1/4-inch thickness on a lightly-floured surface.  Cut the dough into rectangles or flags. 
Place the flags on a greased baking sheet and bake the cookies as directed in the sugar cookie recipe.
Let the cookies cool completely.
Divide the buttercream frosting into three bowls.  Color one bowl of frosting green, using as many drops of green food coloring as necessary to reach the desired green color.  Color another bowl of frosting red, using as many drops of red food coloring as necessary to reach the desired red color.
Working with one cookie at a time, spread green frosting on the left third of the cookie, white frosting in the center third of the cookie and red frosting on the right third of the cookie.  Place a spiral of chocolate chips in the center of the white band of frosting as a simplified representation of the Mexican coat of arms on the Mexican flag.
Place the frosted cookies on a wire rack until the frosting hardens.  Store the frosted cookies in a single layer in a sealed container so that the frosting does not smudge.