Print This Recipe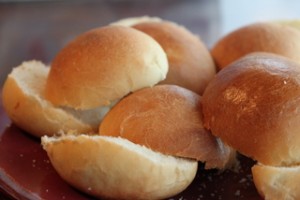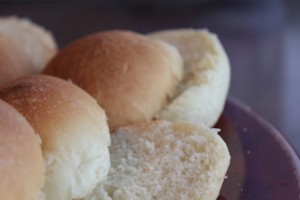 We recently made sliders for dinner.  We couldn't find any mini hamburger buns at the store so I decided to make some.  After referencing several cookbooks, I decided on the Milk Bread from The All-New All-Purpose Joy of Cooking.
They made great hamburger buns but you could also form them into other roll shapes.  They are slightly sweet but you can reduce the sugar depending on what you will be using them for.
Ingredients
2 1/4 tsp active dry yeast
3 Tbsp warm water
1 cup warm milk
5 Tbsp butter, melted
3 Tbsp sugar *(Use only 1-2 tsp sugar if you are making hamburger buns.)
1 egg
1 tsp salt
2 cups bread flour
1 1/2 – 2 cups all-purpose flour
Mix the yeast in the warm water and let it stand for roughly five minutes until the yeast dissolves and the mixture bubbles when stirred.
Add the milk, butter, sugar, egg and salt and stir until combined.  At a low speed, gradually add the bread flour.  Then, gradually add the all-purpose flour until the dough is moist but not sticky.
Knead the dough for ten minutes until it is smooth and elastic.  Place the dough in an oiled container, cover it and let it rise for 1 1/2 hours.  Punch down the dough and refrigerate it for thirty minutes, keeping the oiled container covered.
Divide the dough into 18 pieces and shape them into balls.  Place them on a greased baking sheet.  Cover them with plastic wrap and let them rise for about an hour, until doubled in size.
If desired, brush the buns with an egg wash.  (To make the egg wash, beat one egg with a pinch of salt.)  Bake them at 425 degrees for 10-15 minutes until a golden crust is formed.
Recipe source:
The All New All Purpose Joy Of Cooking