Print This Recipe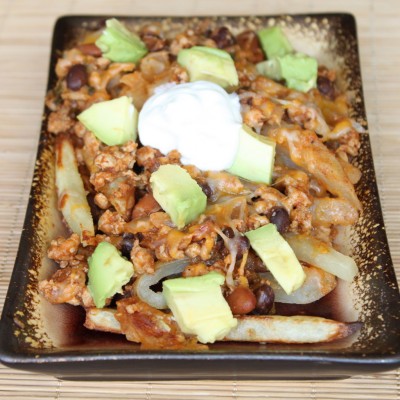 Did you know that one in five children in the United States lives in poverty?  This is a frightening statistic that is often overlooked.  Save the Children is a charity that works in the United States (and around the world) to fight child poverty by providing children with the critical resources such as opportunities in safe environments, nutritious foods and education that are needed to help break the cycle of poverty. 
Frigidaire and Jennifer Garner have joined the fight against child poverty with their Stain Games Campaign to benefit Save the Children's U.S. programs.  You can help their efforts by visiting the Make Time For Change website and "taking a swing against stains."  For every virtual baseball swing taken, Frigidaire will donate up to $1 to Save the Children and you will be entered to win a Frigidaire Affinity washer and dryer.
To support the charity that campaigns for healthier meals for kids, Foodbuzz has teamed up with Frigidaire to look for healthy baseball-themed dishes that can be part of a healthy diet and lifestyle for kids and families. 
One of my family's favorites fit the bill.  These turkey chili cheese fries are a great way to feed your family veggies and lean protein because the turkey chili is loaded with peppers, tomatoes, ground turkey, beans and more.  Plus, by baking the hand-cut French fries this rendition of chili cheese fries offers a healthier alternative to the standard ballpark dish.  The fries can be a meal in it of itself or served as a hearty appetizer or side dish.  They are also a great way to turn leftover chili into a brand-new meal.
Ingredients
Chili con carne, made with ground turkey:
1 – 1.25 lbs of ground turkey, chicken or beef
1/4 tsp salt
1/4 tsp black pepper
1/2 tsp garlic powder
1/4 tsp cumin
1/4 tsp oregano
1/4 tsp chili powder
1 small yellow onion, chopped
4 garlic cloves, minced
1 pasilla pepper, chopped
1-2 jalapeño peppers, chopped
1 15-ounce can of pinto beans, drained and rinsed
1 15-ounce can of black beans, drained and rinsed
4 Tbsp tomato paste
3 1/2 cups low-sodium chicken broth
1 Tbsp chili powder (ideally a blend of different types of chili powders, such as ancho)
1/2 tsp cumin
1/2 tsp salt
1/4 tsp black pepper
1/4 tsp cayenne pepper
1/4 tsp paprika
2 Russet potatoes, cut into matchstick pieces
Grated Colby Jack cheese
2-3 Tbsp light sour cream
1 avocado, cut in chunks
To make the chili, coat the bottom of a pan with oil and heat at medium-high.  Brown the meat with 1/4 tsp salt, 1/4 tsp black pepper, 1/2 tsp garlic powder, 1/4 tsp cumin, 1/4 tsp oregano and 1/4 tsp chili powder.  The meat can still be raw in the center because it will continue to cook as the chili simmers.
Lightly coat a large pot with oil and cook the onion, garlic and peppers until they are tender.  Add the browned meat to the pot with the remaining ingredients.  Bring the chili to a boil and then let it simmer for thirty minutes to an hour, continuing to season it to taste once the meat is fully cooked.  (*The chili can also be made in a slow-cooker.  Simply add the browned meat and the remaining ingredients to the slow-cooker and let it simmer for several hours.) 
To make the French fries, rinse and scrub the potatoes.  Then peel off the skin unless you are using organic potatoes and would like the nutrients of the skin.  Cut the potatoes into matchstick pieces and place them in a bowl of ice water to soak for at least 30 minutes or up to overnight.  Once soaked, remove the potato strips from the water and dry them with paper towels.
Coat a baking sheet with Canola oil and arrange the potato strips evenly on the pan so that they do not overlap.  Sprinkle the potatoes with salt.  Bake the potatoes at 260 degrees for 10 minutes.  Flip the potatoes and bake them for an additional 10 minutes at 375 degrees.  If they are sticking to the pan, brush them with additional oil as you flip and stir them.  Flip them again and cook them for 10 minutes or more at 450 degrees until they are golden and tender.  Sprinkle them with additional salt to taste. 
Place the baked French fries on a plate and cover them with grated cheese.  Spoon turkey chili over the cheese and sprinkle more cheese on top.  Top the chili cheese fries with a spoonful or two of light sour cream and chunks of avocado.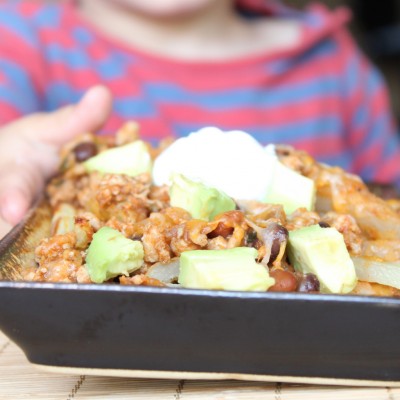 Tags: avocado, cheese, fries, ground turkey, potatoes, turkey chili