Print This Recipe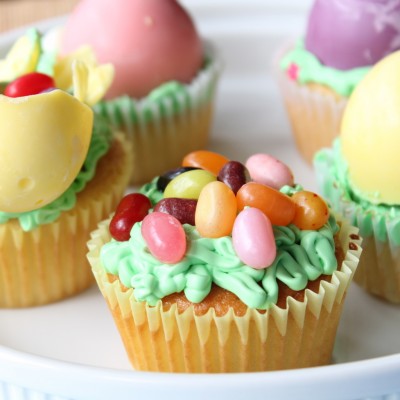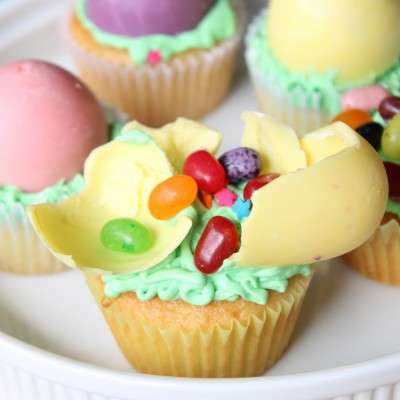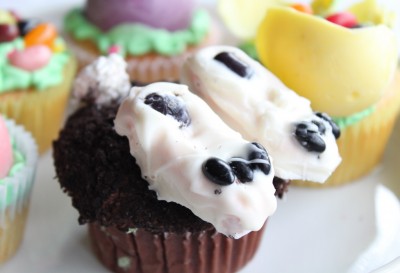 Our baby boy surprised us a month early, arriving just a few days before Easter this year.  We have been fortunate to have a steady stream of family and visitors helping us. My sister-in-law and her three girls stayed with us for Easter weekend.  Our nieces were a huge help, especially by entertaining our older son.  And they made these adorable Easter cupcakes to boot!  Though Easter has already come and gone I thought that these cupcakes were too cute not to share…and they could really work anytime during the spring season.
The inspiration for these cupcakes came from the New York Times Bestseller: Hello, Cupcake! and its sequel: What's New, Cupcake?  If you are in to cupcakes then you would definitely love these cookbooks which are full of pictures and awesome ideas, tricks and inspiration. 
Ingredients
Cupcakes of your choice (such as chocolate or white cake)
Green food coloring
Jelly beans or mini chocolate eggs
Plastic eggs
Vegetable oil
Wilton melting chocolate
Oreo cookies
Flower sprinkles
White non-pareil sprinkles
White spice drops
Orange peanut candies
Color some of the buttercream frosting green.  Pipe the green frosting on the cupcakes so that it looks like grass.  Place jelly beans, chocolate eggs or other Easter candies in the grass frosting.  Sprinkle the cupcakes with flower sprinkles if desired.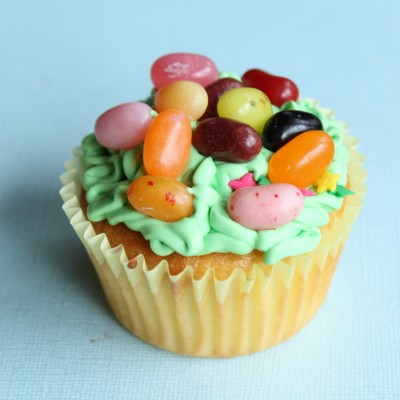 To make the chocolate eggs, grease the inside of plastic eggs with vegetable oil.  Spread different colors of melted chocolate in the eggs and let the chocolate harden.  Pop out the chocolate shells and place them on the frosted cupcakes.  You can also break some of them and fill them with Easter candies.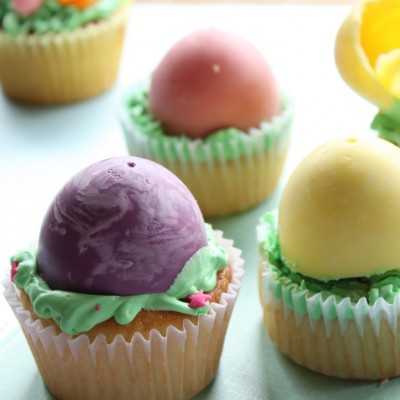 To make the bunny cupcakes, split Oreo cookies in half and finely crush the sides without the white filling.  Put the chocolate cookie crumbs in a shallow bowl.  Spread icing on the cupcakes with a knife and dip the frosted tops into the chocolate cookie crumbs.  To make the bunny feet, split a peanut candy in half and then dip each half into melted white chocolate, spooning chocolate over the candy to fully coat it.  Press black jelly beans into the feet to make the paws and then let the chocolate harden.  Spread some frosting on the bottoms of the feet and place the feet on the cupcake tops.  To make the bunny tail, mold a white spice drop into a circle (or use another circular candy).  Coat the candy with frosting or white chocolate and place white non-pareil sprinkles into the candy.  Let the chocolate/frosting harden and then place the tail onto the cupcake top.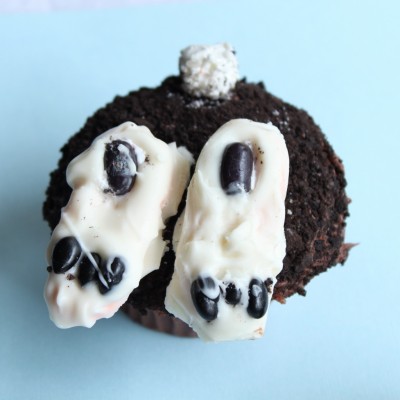 Ideas for the cupcake decorations came from:
Hello, Cupcake!: Irresistibly Playful Creations Anyone Can Make
 and
What's New, Cupcake?: Ingeniously Simple Designs for Every Occasion
Tags: bunnies, chocolate, cupcakes, Easter, Easter eggs, jellie beans, spring