Sat, Dec 4, 2010
Cakes, Cupcakes & Brownies, Desserts, Foodgawker, Fun Family Activities, Itsy Bitsy Foodies Events, Itsy Bitsy Foodies Sightings, Party and Decorative Ideas, Photograzing, Search by Course

Print This Recipe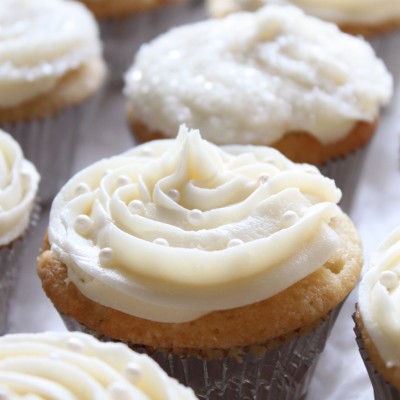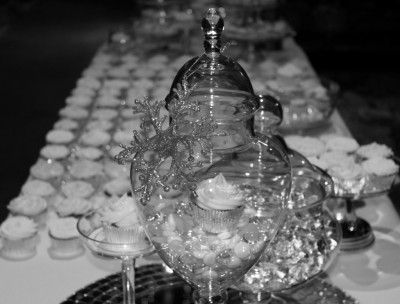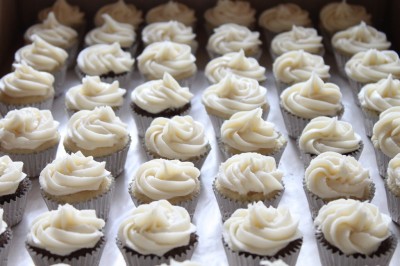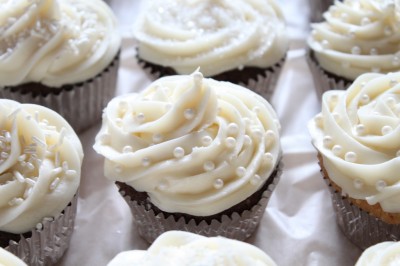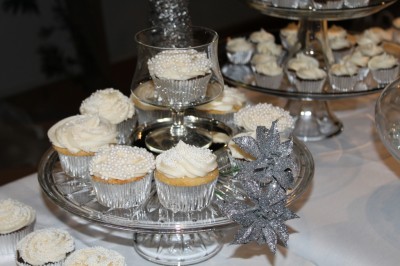 I recently had the opportunity to create a cupcake display for the 20th Annual Festival of Trees gala event in Port Angeles, Washington, a fundraiser benefiting Olympic Medical Center.  The theme of the event was Let it Snow!  Decorating over 400 cupcakes (both minis and regular-sized cupcakes) to match the theme was the perfect way to get into the holiday spirit. 
The day of the event we had a frosting party where we transformed chocolate and vanilla cupcakes into glistening balls of snow using a variety of sparkly white sprinkles and candy.
Ingredients
Pound Cake, baked in cupcakes
Chocolate Cake, baked in cupcakes
White chocolate, melted
Clear rock candy
White cake sparkles
Sugar pearls
White nonpareils
Pearlized jimmies
White sparkling sugar
I used the Wilton 1M star tip to ice both sizes of cupcakes.  For the miniature cupcakes, I simply did a spiral swirl of frosting.  For the regular-sized cupcakes, I topped the spiral swirl of frosting with a variety of white and clear sprinkles, clear rock candy and white chocolate snowflakes. 
To make the white chocolate snowflakes, melt pieces of white chocolate and then pipe snowflake designs onto waxed paper.  Let the chocolate designs harden and then gently peel them from the waxed paper and place them on the frosting.
*A special thanks to Lindsay and Kari for helping me decorate cupcakes, and to Lindsay for helping me design the cupcake display.  And thanks to the rest of my family for putting up with my cupcake madness!
Tags: buttercream frosting, chocolate cake, cupcakes, vanilla pound cake