Print This Recipe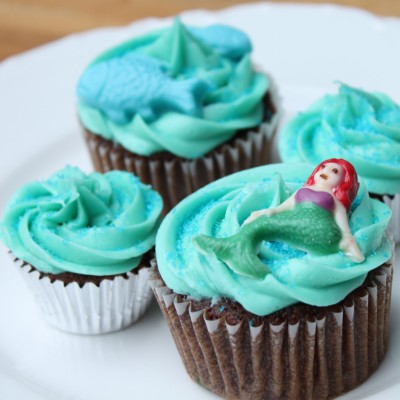 Making chocolate with molds is an easy way to decorate cupcakes, especially when you are trying to make an intricate design.  I found generic mermaid chocolate molds and colored them to look like Ariel from The Little Mermaid for an Ariel-themed birthday party.   
Ingredients
Chocolate cake, baked in cupcakes
Colorful cake sprinkles
Blue food coloring
Green food coloring
Blue sugar sprinkles
Mermaid chocolate molds
Fish or other under the sea-themed chocolate molds, optional
Wilton's colored candy melts (red, purple, white, blue, green)
Butterscotch chips
To make colorful funfetti cupcakes, stir a bottle of multi-colored cake sprinkles into the cake batter.  Bake the cupcakes and let them cool completely.
Follow the directions on the Wilton's colored candy melts bags to make the chocolates.  This is a step that can be done a day or two ahead of time.  Store the chocolates sealed in a cool place or in the refrigerator. 
I mixed blue and green chocolates to get a teal that matched the Ariel theme.  I mixed white chocolates and butterscotch chips to match the color of Ariel's skin.  Using toothpicks, I painted the bottom of the mold to look like Ariel.  I then filled in the chocolate with a solid color.  (I used the teal color but you could use whatever color you have the most of.)  Let the chocolates harden and then remove them from the molds, trimming the edges as needed.  Right before placing them on the cupcakes, I made chocolate eyes and a mouth using a toothpick and some melted chocolate chips.
Use a mix of blue and green food coloring to color the buttercream frosting.  Pipe the colored frosting onto the cupcakes using Wilton's 1M Swirl, 1A or 2A tip.  Sprinkle some blue-colored sugar sprinkles on top of the icing.  Gently place the mermaid and fish chocolates on top.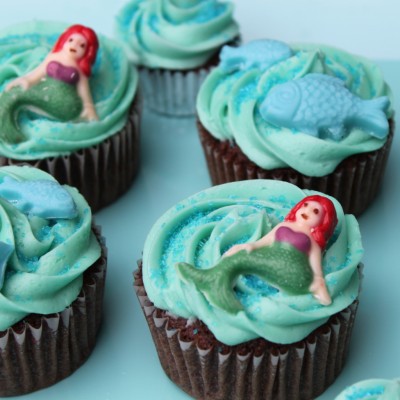 Tags: buttercream frosting, chocolate cake, Wilton's colored candy melts