Mon, Nov 1, 2010
Appetizers, Around the World, Disguising Healthy Foods, Foodgawker, Itsy Bitsy Foodies Sightings, Main Dishes, North America, Quick n' Easy, Search by Course, Side Dishes, United States

Print This Recipe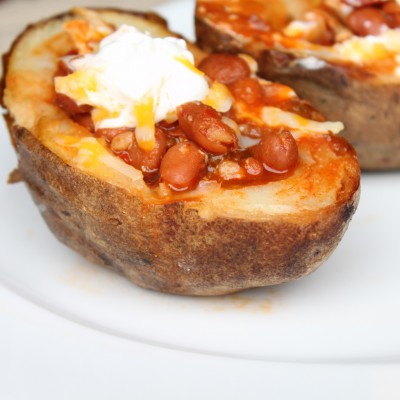 Serve your favorite chili in baked potato "bowls" for a hearty and nutritious main course or appetizer.  The chili with toppings helps to disguise the skins of the potatoes which are actually the most nutrient-dense part of the potato.
Especially because we are eating the skins, I use organic potatoes.  Non-organic potato skins are home to many nutrients but they also suck in all of the fertilizers and chemicals used to grow the plants.  Organic potato skins provide the nutrients and fiber without the chemicals.
Ingredients
BBQ Chicken Chili or Chili con Carne
Large potatoes, baked
Grated cheese
Light sour cream
Chopped onions, optional
Rinse and scrub the potatoes.  Pat them dry and wrap them in foil.  Bake them at 400 degrees for 45 minutes to an hour, or until they are tender and can be easily cut with a table knife.
Let the baked potatoes cool for 5-10 minutes or until they are cool enough to handle.  Slice them in half and scoop out a little bit of the center to form a bowl.  Reserve the potato centers for mashed potatoes or hash browns.
Spoon hot chili into the baked potato bowls and top with sour cream, grated cheese and other toppings of your choice.  Serve them immediately.
TIP: To make the baked potatoes extra tasty, lightly brush them with vegetable oil once you have scooped out the centers.  Place them on a pan, lightly sprinkle them with salt and pepper, and bake them at 400 degrees for 5-7 minutes on each side.
Tags: baked potatoes, cheese, chicken, chili