Print This Recipe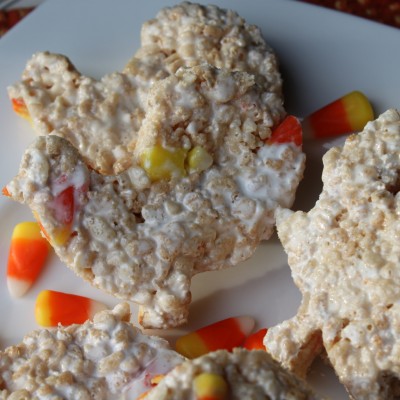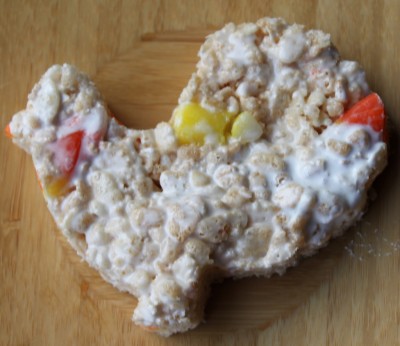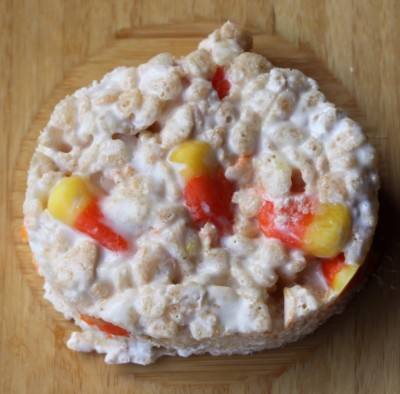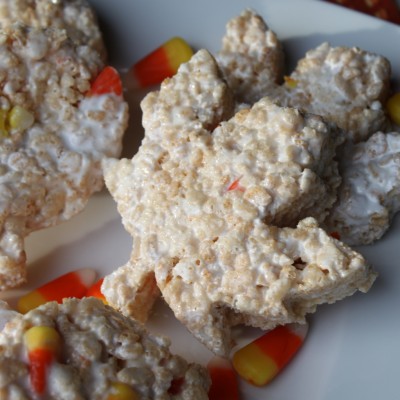 Use up leftover candy corn from Halloween by making these rice krispie treats in fun, autumn shapes.  I made pumpkins, turkeys and maple leaves but you could cut them into basic squares or let your kids pick the shapes. 
I have found that the trick to extra gooey treats is stirring in a couple spoonfuls of marshmallow creme at the end.  My rice krispie treats used to be on the dry side because I could never get just the right of marshmallows.  (Because they harden so quickly, there is no time to melt more marshmallows by the time you realize you need them.)  I now always have a jar of marshmallow creme handy when I make rice krispie treats so that I can stir a couple spoonfuls in as needed.
Ingredients
4 Tbsp butter
40 large marshmallows
5 cups Rice Krispie cereal
2-3 large spoonfuls of marshmallow creme
1/2-3/4 cup candy corn
Combine the cereal and the candy corn in a bowl.  Mix them well.
Melt the butter in a large saucepan over low heat.  Add the marshmallows to the melted butter and stir them constantly until they have completely dissolved.  Remove the pan from the heat and add the rice krispie cereal/candy corn combo, working quickly to stir the melted marshmallows and cereal together before the marshmallow mixture starts to harden.  Stir in a couple of spoonfuls of marshmallow creme to reach your desired consistency.
Spread the mixture into a greased 9×13 pan.  To prevent sticking, wet your hands with water or use a damp paper towel to press the rice krispie treats into the pan. 
Let the treats set for 15-20 minutes.  Then cut them into squares or use cookie cutters to make fun shapes.  Store the treats in a sealed container or a Ziploc bag to prevent them from drying out.