Mon, Aug 23, 2010
Around the World, Desserts, DessertStalking, Foodgawker, Itsy Bitsy Foodies Sightings, North America, Photograzing, Pies & Tarts, Search by Course, TasteSpotting, United States

Print This Recipe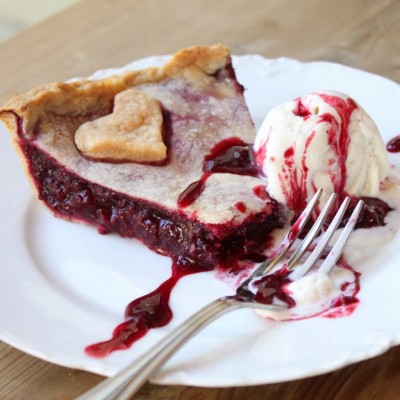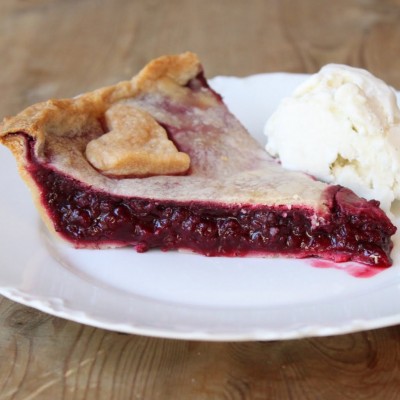 I love this pie in the middle of the summer made with freshly-picked berries;  I love this pie in the middle of winter when I am dreaming of summer; and I love this pie for breakfast (it's a serving of fruit, right?)!  I like to serve the pie à la mode with vanilla ice cream.
When I was a kid we would hike on old logging roads to pick Pacific blackberries (also known as California blackberries or "little wild blackberries").  They are different than Himalayan blackberries in that they are smaller and have more of a complex flavor, the perfect combination of tart and sweet.  We wouldn't go a summer without making at least one blackberry pie (along with blackberry butter, blackberry jam and blackberry muffins, among other blackberry treats).  So when I was recently visiting my family and my mom pulled out some wild blackberries for a pie, I was thrilled that my summer would be complete.  If you can't find any "little wild blackberries" you can use Himalayan berries, raspberries or any other berry.  My family's pie crust is easy to work with.

Author:
Itsy Bitsy Foodies
Prep time:
Cook time:
Total time:
Little wild blackberries give this pie its complex, tart flavor but you can substitute any variety of blackberry or berry.
Ingredients
Pie Crust
½ cup butter
1 Tbsp sugar
½ tsp salt
1⅓ cup flour
Berry Filling
4 cups blackberries (or raspberries)
1-1½ cups sugar
⅓ cup flour
¼ tsp cinnamon
1½ Tbsp butter, optional
Instructions
Pie Crust
Mix the butter, sugar salt and flour in a food processor until crumbly.
Add ¼ cup water.
Cover the dough with plastic wrap and chill it in the refrigerator for at least 30 minutes.
Berry Filling
Mix the ingredients together.
Let the berries rest while the dough is chilling.
Assembling the Pie
Split the dough into two balls and roll out the bottom and top pie crusts on a lightly floured surface.
Place the bottom crust in a pie pan.
Pour the berry filling into the bottom crust.
Cover the berries with the top crust and crimp the edges.
Vent the top crust by pricking it with a fork or by cutting out a design and decorating the top as desired.
Bake the pie at 425 degrees for 15 minutes.
Reduce the heat to 350 degrees and bake it for an additional 30-40 minutes or until it is light golden and the berries are beginning to bubble out the vents.
Serve the pie with vanilla ice cream.
If allowed to cool, the pie will set and be easier to serve. However, warm pie fresh from the oven is also delicious!
Tags: baking, berry pie, blackberries, blackberry pie, cinnamon, fruit pie, pastry, pie, pie crust, vanilla ice cream, wild blackberries