Tue, Mar 8, 2011
Breakfast, DessertStalking, Foodgawker, Fun Family Activities, Holidays, Itsy Bitsy Foodies Sightings, Mardi Gras, Pancakes, Waffles & More, Photograzing, Search by Course, TasteSpotting

Print This Recipe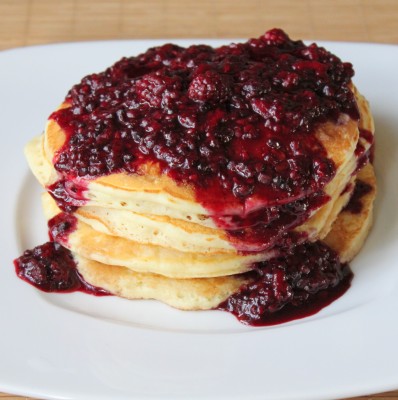 Shrove Tuesday.  Fat Tuesday.  Mardi Gras (literally "Fat Tuesday" in French).  Pancake Day.  The day before Ash Wednesday has many names.  It marks the last feast day before Lent, a season of fasting and prayer in the Christian religion.  Pancakes and other foods made with ingredients such as eggs, sugar and butter are traditionally eaten to celebrate the last feast day as well as use up these rich, fatty ingredients before the fasting begins.
No matter what your background is, today offers a fun excuse to have pancakes for dinner (something that was always one of my favorites when I was a kid).  To celebrate, I made my buttermilk pancakes more festive with a chunky blackberry maple syrup.  The syrup recipe comes from my uncle who makes the syrup with blueberries.  I had some frozen blackberries on hand so that's what I used.  You can use the berry of your choice.  The recipe yields roughly one cup of berry syrup which is a yummy addition to waffles, french toast or pancakes for breakfast, brunch or dinner.  I love the fact that the syrup is not overly sweet, allowing the flavor of the berries to shine.  Happy feasting!

Author:
Itsy Bitsy Foodies
Prep time:
Cook time:
Total time:
This blackberry maple syrup is not overly sweet, allowing the flavor of the berries shine.
Ingredients
1⅔ cup blackberries (or blueberries), fresh or thawed
¼ cup maple syrup
1 tsp flour
1 Tbsp water
Instructions
Gently break up the berries with a wire masher, leaving them chunky so that there is a mix of whole berries, partly broken berries and crushed berries.
Dissolve the flour in the water in a small saucepan.
Stir in the maple syrup.
Then add the crushed berries.
Bring the mixture to a gentle bubbling simmer and let it simmer for 2-3 minutes, being careful not to let it boil vigorously.
Serve the chunky berry syrup warm with pancakes, waffles or french toast.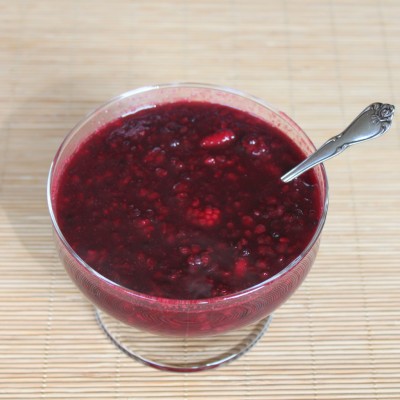 TIP: Use unfiltered Grade B maple syrup to save cost without sacrificing the flavor.
Tags: berry syrup, blackberries, blackberry syrup, maple syrup, pancakes