Print This Recipe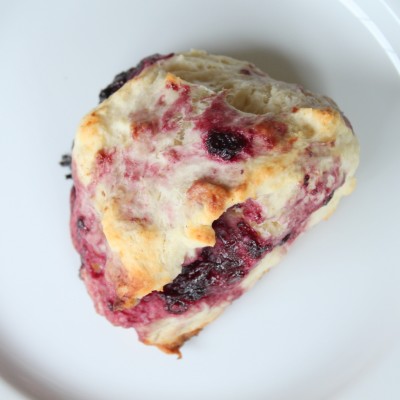 As I suspected, I ended up making the chunky Blackberry Maple Syrup again just so that I could stir it into my oatmeal. With the leftovers, I decided to experiment, this time with scones. I folded a spoonful or two of the berry syrup into the scone dough once it was shaped on the counter. (You could also simply use blackberries or other berries.) The resulting scones were delicious, moist and slightly sweet, ready to be enjoyed plain or with jam.

Author:
Itsy Bitsy Foodies
Prep time:
Cook time:
Total time:
These blackberry maple scones are moist and sweet, ready to be enjoyed plain or with jam.
Ingredients
Blackberry Maple Syrup
1⅔ cup blackberries, fresh or thawed
¼ cup maple syrup
1 tsp flour
1 Tbsp water
Scones
2 ½ cups flour
2 tsp baking powder
2 Tbsp sugar
½ tsp salt
6 Tbsp butter, softened and cut into cubes
¾ cup milk
Instructions
Blackberry Maple Syrup
Gently break up the berries with a wire masher, leaving them chunky so that there is a mix of whole berries, partly broken berries and crushed berries.
Dissolve the flour in the water in a small saucepan.
Stir in the maple syrup.
Then add the crushed berries.
Bring the mixture to a gentle bubbling simmer and let it simmer for 2-3 minutes, being careful not to let it boil vigorously.
Scones
Sift and measure the flour.
Resift it with the other dry ingredients.
Work the softened butter cubes into the dry mix with a pastry blender or a fork.
Add the milk.
Turn the dough on to a lightly floured surface.
Divide the dough into 2 pieces, forming each piece into a circle the thickness of biscuits.
Spoon some blackberry maple syrup onto each circle and fold over the dough, gently forming the dough back into a circle.
Cut each disc into four wedges (to make 8 scones in total) and place them on a greased baking sheet.
Bake them at 400-425 degrees for 10-15 minutes until the bottoms are lightly golden and the centers are done.
{These Blackberry Maple Scones were also featured on 
Honest Cooking
.  Click
here
to view the article.}
Tags: baking, blackberries, blackberry syrup, maple syrup, scones