Print This Recipe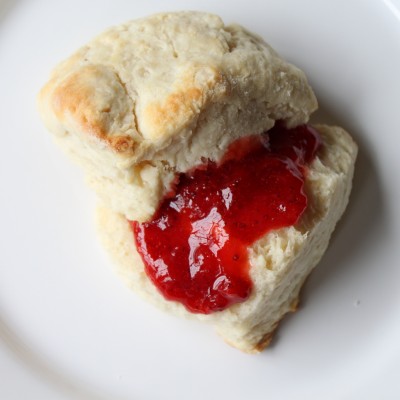 In my family, we have always had two scone recipes, one from my Uncle and one from my Great Aunt.  My Uncle's recipe calls for an egg and is more golden yellow in color.  My Great Aunt's recipe does not have eggs and is creamier in color.  I can't tell you which one is my favorite because it has always been pretty much the flip of a coin to determine which we'd make.  The following recipe comes from my Great Aunt.  It makes eight scones so you can make an assortment, leaving some plain and folding other ingredients such as chocolate chips or cinnamon into others.
Serve these scones warm with berry jam or pile them high with strawberries and whipped cream for a yummy strawberry shortcake.  If you are looking for a scone that is made with an egg and is more golden yellow in color, try my family's other scones recipe.

Author:
Itsy Bitsy Foodies
Prep time:
Cook time:
Total time:
Serve these light, buttery scones with fruit and jams.
Ingredients
2½ cups flour
2 tsp baking powder
2 Tbsp sugar
½ tsp salt
6 Tbsp butter, softened and cut into cubes
¾ cup milk
Instructions
Sift and measure the flour.
Resift it with the other dry ingredients.
Work the softened butter cubes into the dry mix with a pastry blender or a fork.
Add the milk.
Turn the dough on to a lightly floured surface.
Divide the dough into 2 pieces, rolling each piece into a disc the thickness of biscuits.
Cut each disc into four wedges (to make 8 scones in total) and place them on a greased baking sheet.
Bake them at 400-425 degrees for about 15 minutes.