Print This Recipe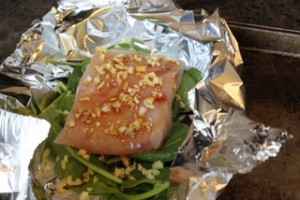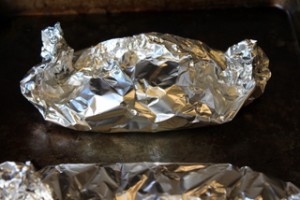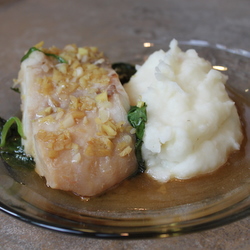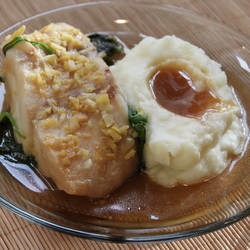 This Asian-inspired dish is extremely easy to make and great for a busy week night.  By steaming the fish in foil, you eliminate the chore of cleaning pots and pans. 
I first made this dish when my son was about nine months old.  We gave him a piece of the fish and he devoured it.  He continued to eat about half of my fish! 
The flavors of the soy, sesame and ginger combine to make a soothing, agreeable sauce and work well to disguise the healthy fish and spinach.  The steamed spinach cooks down and becomes easy to eat.  I like to serve this dish with garlic mashers because the ginger sauce acts as a gravy. 
Ingredients
4 tsp fresh, chopped ginger
2-4 tsp minced garlic, according to taste
1/2 cup dry white wine
8 tsp low-sodium soy sauce
2 tsp sesame oil
4 cups fresh spinach leaves, rinsed and drained
4 6-ounce pieces of firm, white fish (such as cod)
Black pepper, optional
Working with one piece of fish at a time, tear off a large piece of aluminum foil (roughly a 12-inch square).  Place 1 cup of spinach leaves in the center of the foil.  Put the fish on top of the spinach.  Sprinkle the fish with 1 tsp ginger, 1/2-1 tsp garlic and drizzle it with 2 Tbsp wine, 2 tsp soy sauce and 1/2 tsp sesame oil.
Fold the foil up to seal it.  Place it on a baking sheet.  Repeat the process with the remaining pieces of fish. 
Bake the fish at 400 degrees for 10-15 minutes or until the fish is flaked and fully cooked and the spinach is wilted.  The cook time will depend on the thickness of the fish.
Remove the fish from the heat and let it cool for five to ten minutes while still sealed in foil.  The fish will continue to steam a little while cooling. 
Transfer the fish, spinach and sauce to a plate or a shallow bowl.  Sprinkle with black pepper if desired.  Serve the fish with garlic mashers.
Recipe adapted from: Giada De Laurentiis and the Food Network
Click here to view a guide for selecting seafood.