Print This Recipe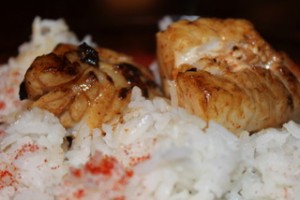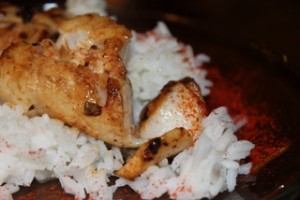 These spicy fried fish fillets from Kenya are simple to make.  I was surprised to discover that the seasoning is very similar to other rubs and marinades that we often use for chicken and fish, comprised of several of our "go-to" ingredients that you, too, will most likely have on hand.
The original recipe comes from a website called Mwambao which provides information about East Africa and its cuisine.  I adjusted the seasonings quite a bit, reducing the amount of chili powder and black pepper and adding roughly 1/4 tsp cayenne pepper to make it spicy.  The fish fillets are typically fried but I pan-fried them in only a little oil.  I served the fish over rice and sprinkled it with paprika and cayenne pepper.
Ingredients
1 pound firm white fish (such as cod)
4 cloves of garlic, minced
1/4 tsp salt
Dash of black pepper
1/4 tsp cayenne pepper
Dash of chili powder, optional
The juice of 1 1/2 limes
Canola oil
Mix the garlic, salt, pepper, cayenne pepper, chili powder and lime juice to form the marinade.  Rub the marinade over the fish and let it rest for 10-20 minutes.
Coat a pan with oil and heat it over medium heat.  Pan-fry the fish until it is done on both sides.  It should only take a few minutes, depending on the thickness of the fish fillets.
Serve the fish warm over steamed rice.
Click here to view a guide for selecting seafood.
Tags: cayenne pepper, fish, garlic, lime juice