Wed, Oct 20, 2010
Around the World, Asia, Disguising Healthy Foods, England, Europe, India, Itsy Bitsy Foodies Sightings, Main Dishes, Seafood, Search by Course, TasteSpotting

Print This Recipe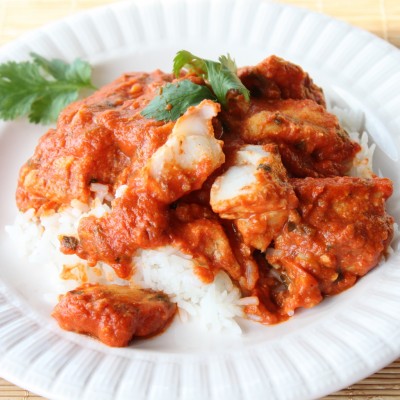 My family loves our lighter chicken tikka masala sauce so much that we decided to make the Indian curry dish with fish instead of chicken.  I knew it was a successful meal when my son devoured the fish just as quickly as he does the chicken.
To save some time and simplify the process, I skipped the step of marinating the fish in the yogurt sauce like we do with the chicken.  I simply cooked the fish with salt and pepper and then added it to the tikka masala sauce.  It turned out great.  Fish is lighter and more delicate than chicken so in our opinion it didn't need the yogurt marinade.  If you want to do the yogurt marinade, follow the steps in the chicken tikka masala recipe.
Serve the tikka masala with rice and naan.

Author:
Itsy Bitsy Foodies
Prep time:
Cook time:
Total time:
This lighter tikka masala sauce is a great way to get your family to eat fish.
Ingredients
1 pound of a firm white fish, such as cod
Salt, to taste
Black pepper, to taste
Sauce
1 Tbsp butter
4-5 garlic cloves, minced
1 jalapeño pepper, finely chopped
1 tsp cumin, to taste
1 Tbsp paprika
1 tsp salt, to taste
1 16-ounce can of tomato sauce
1 cup "half and half," to taste
½ cup chopped fresh cilantro
Instructions
Fish
Lightly salt and pepper the fish to taste.
Broil the fish in the oven or pan-fry it on the stovetop for 7-10 minutes on each side (depending on the thickness of the fish).
Once cooked, let it cool for 5 minutes and then break it into chunks.
Sauce
Melt the butter in a pan over medium heat.
Add the minced garlic and chopped jalapeño pepper and sauté for 1 minute.
Stir in the remaining ingredients and simmer for about 20 minutes.
Add the cooked fish pieces and let the curry simmer for another 10 minutes.
Serve the tikka masala over rice with naan.
Click
here
to view a guide for selecting seafood.
Tags: cilantro, cumin, curry, fish, garlic, ginger, jalapeno, paprika, tikka masala, tomatoes, yogurt