Print This Recipe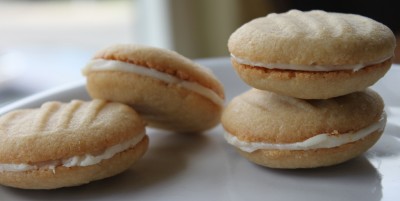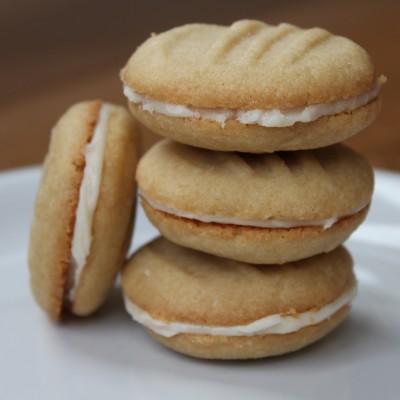 These caramel cream sandwiches are the perfect treat for these cold autumn days.  The cookie sandwiches are made of buttery shortbread with a subtle caramelized flavor and  a rich, nutty caramel cream frosting.  
Ingredients
Cookies:
3/4 cup brown sugar
1 cup butter, softened
1 egg yolk
2 cups flour
Frosting:
2 Tbsp butter
1 1/4 cup powdered sugar
1/2 tsp vanilla
4-5 tsp milk
To make the cookies, cream the butter and the brown sugar until light and fluffy.  Blend in the egg yolk and then the flour.  Cover the dough with plastic wrap and refrigerate it for at least 15 minutes so that it is easier to work with.
Shape the chilled dough into 1-inch balls and place them 2-inches apart on an ungreased cookie sheet.  Dip a fork into flour and then press it into each cookie, flattening the balls to 1 1/2-inch rounds.  Dip the fork in flour before pressing it into each dough ball.
Bake the cookies at 325 degrees for 10-15 minutes, or until they are light golden brown around the edges.  Cool them for one minute on the pan and then transfer them to a cookie rack to cool completely.
To make the caramel cream frosting, heat 2 Tbsp butter in a small saucepan over medium heat until it melts and turns light golden brown, stirring it constantly.  Remove it from the heat and stir in the powdered sugar, vanilla, and milk to reach the desired consistency.
Spread roughly 1 tsp frosting between two cooled cookies and press them together until the icing reaches the edge of the cookies.  Let the cookie sandwiches cool on waxed paper or a baking rack until the icing firms up.
This recipe yields about 20 sandwich cookies.
Recipe source: Pillsbury Best Cookies Cookbook: Favorite Recipes from America's Most-Trusted Kitchens
Tags: butter, caramel cream, cookies, sandwich cookies