Sat, Feb 20, 2010
Around the World, Asia, Chicken & Turkey, England, Europe, Foodgawker, Honest Cooking, India, Itsy Bitsy Foodies Sightings, Main Dishes, Search by Course

Print This Recipe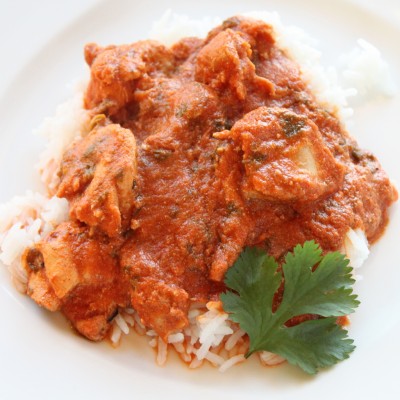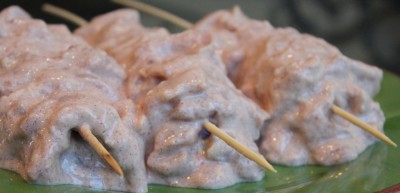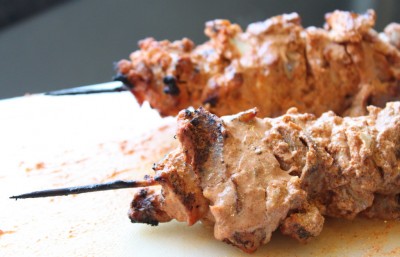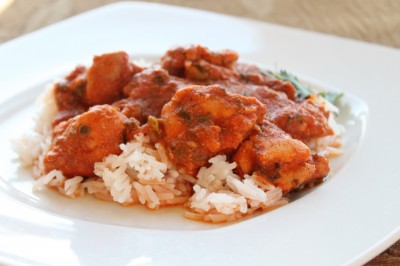 Tikka Masala is a popular Indian curry dish that can be ordered in restaurants around the globe.  The actual origins are disputed, some people claiming it comes from India and others saying that it was created in an Indian restaurant in London.  It is so popular in England that it is considered Britain's national dish.
Chunks of chicken (or other meats) are marinated in yogurt and spices and then baked in a tandoor oven.  The yogurt helps to tenderize the meat.  For those of us without a tandoor oven, skewering the meat and cooking it on the BBQ is a great alternative.  
Over the past couple of years we have made Tikka Masala many times in an effort to perfect it.  It typically has heavy cream so our goal has been to create a lighter version while matching restaurant creaminess and flavor.  We have tried full cream, fat-free "half and half," and regular "half and half."  The full cream is too rich and makes us feel guilty; the fat-free stuff is too watery and leaves us unsatisfied. Our favorite by far has been the regular "half and half" because it has the texture and taste that we are after.  
Our fifteen-month old son couldn't get enough of this, even with all of the spice!  Serve it over steamed rice with naan bread. 

Author:
Itsy Bitsy Foodies
Prep time:
Cook time:
Total time:
This tikka masala is a lighter version of the popular Indian curry dish but it matches restauarant creaminess and flavor. It is one of our family favorites!
Ingredients
Yogurt Marinade
2 cups plain, low-fat yogurt
2 Tbsp lemon juice
1 tsp ground cumin
2 tsp cinnamon
1-2 tsp cayenne pepper, depending on how spicy you like it!
¼ tsp black pepper
2 Tbsp minced ginger
1 tsp salt
4-5 chicken breasts or 7-8 chicken thighs, cut into bite-sized cubes
Approximately 5-6 metal skewers
Sauce
1 Tbsp butter
4-5 garlic cloves, minced
1 jalapeño pepper, finely chopped
1 tsp cumin, to taste
1 Tbsp paprika
1 tsp salt, to taste
1 16-ounce can of tomato sauce
1 cup "half and half," to taste
½ cup chopped fresh cilantro
Instructions
Yogurt Marinade
Mix all of the ingredients in a bowl to form the yogurt marinade.
Add the chicken cubes and cover with plastic wrap.
Let the chicken marinate in the refrigerator for 4-5 hours.
When ready to cook, thread the chicken cubes onto the metal skewers.
BBQ the chicken skewers for roughly 15-20 minutes, rotating every 5 minutes to cook on 3-4 sides. The chicken will be lightly charred and the marinade will turn translucent.
Slide the chicken cubes off of the skewers and transfer them to the sauce that has been cooking on the stovetop. (The chicken does not need to be cooked completely because it will continue to cook in the sauce.)
Sauce
Melt the butter in a pan over medium heat.
Add the minced garlic and chopped jalapeño pepper and sauté for 1 minute.
Stir in the remaining ingredients and simmer for about 20 minutes.
Add the cooked chicken pieces and let simmer for an additional 10 minutes.
Tags: chicken, cilantro, cinnamon, cumin, ginger, Indian curry, Indian food, jalapeno peppers, paprika, tikka masala, tomatoes