Print This Recipe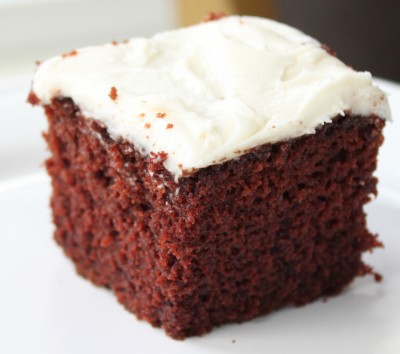 Kids will love making this cake.  It is quick, easy and results in a moist chocolate cake.  I remember helping my mom make this cake when I was a kid.  I loved the step of making the indents in the dry mixture.  We would always make a face – two small indents for eyes and one large indent for the mouth.  I like to ice the cake with vanilla buttercream frosting but you can decorate your cake as desired.
I recently tried doubling the recipe and baking the cake in a 9×13 pan.  It turned out great, just a little thicker than normal.
Ingredients
1 ½ cup flour
1 cup sugar
1 tsp baking soda
1 tsp salt
3 Tbsp cocoa powder
1 tsp vinegar
1 tsp vanilla
6 Tbsp vegetable oil
Mix the dry ingredients in an ungreased 8 x 8 pan.  With a spoon, make three indents in the dry mixture without going through to the bottom of the pan.
Add to the indents:
1 tsp vinegar, in a small indent
1 tsp vanilla, in a small indent
6 Tbsp oil, in a large indent
Pour 1 cup water over everything and stir it all together to form a smooth batter, making sure to get all of the dry ingredients mixed in from the corners of the pan.  Bake for 30-35 minutes at 375 degrees or until the cake springs back to the touch and a toothpick comes out clean.
TIP: The cake can be doubled and baked in a 9×13 pan.  Make 4 small indents and 2 large indents in the dry ingredients when mixing in the wet ingredients.