Print This Recipe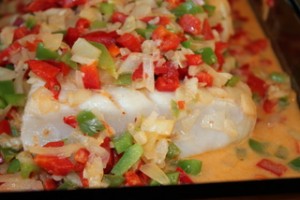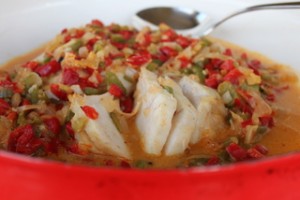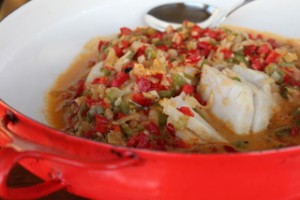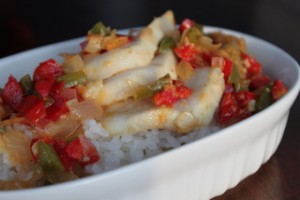 I first found this recipe on a wonderful website, Taste of Cuba, but the same and/or similar recipe is on many other sites.  It originally calls for chicken but I substituted cod (any firm white fish would do) and we loved it.  The ingredient list is simple and the dish comes together quickly.
Kids generally like sauces made with coconut milk so it is a great ingredient for disguising healthy fish and vegetables that aren't typically kids' favorites.  Plus, new studies indicate that coconut milk itself is an extremely healthy ingredient.  Though it previously had a negative reputation mainly due to its higher fat content, its image is rebounding as we discover its health benefits.
Ingredients
1 pound firm white fish (such as cod)
1 onion, chopped
1 green bell pepper, chopped
1 red bell pepper, chopped
1 Tbsp chopped, roasted garlic
7 ounces light coconut milk
Peel the skin off of several garlic cloves.  Place the cloves in a small baking dish brushed with oil and bake them at 400 degrees for 7-10 minutes, or until the garlic is golden and soft.  Remove them from the heat.  Once the garlic cloves are cool enough to handle, chop them into small pieces.
Coat the bottom of a pan with canola oil and heat at medium heat.  Pan-fry the fish on both sides until it is beginning to brown.  Remove the fish from the heat.
Coat the bottom of another pan with canola oil and heat at medium heat.  Sauté the chopped onion and bell peppers for several minutes until they are translucent.  Stir in the chopped roasted garlic and the coconut milk.  Cook the sauce for 5-8 minutes.  Season it with salt, pepper and crushed red pepper flakes.
Place the fish pieces in a 9 x 13-inch pan and cover it with the vegetables and coconut sauce.  Bake the fish at 425 degrees for 20-45 minutes until the vegetables cook down and the meat is tender.  (The cooking time will vary depending on the thickness of the fish.)
I like to serve the coconut fish over lime-cilantro rice.
Click here to view a guide for selecting seafood.
Tags: coconut milk, fish, garlic, onion, red bell peppers