Wed, May 5, 2010
Around the World, Chicken & Turkey, Cinco de Mayo, Fun Family Activities, Holidays, Main Dishes, Mexico, North America, Quick n' Easy, Search by Course

Print This Recipe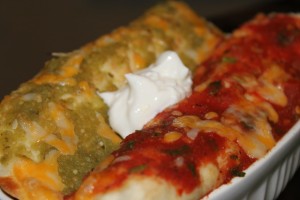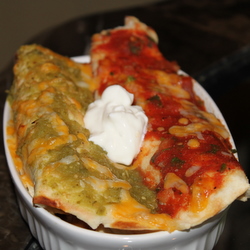 Celebrate Cinco de Mayo with these festive enchiladas that look like the Mexican flag.  Salsa verde, sour cream and red salsa (or red enchilada sauce) represent the three colors of the Mexican flag.  They are quick and easy to make and each member of your family can eat their own enchilada flag.
Cinco de Mayo (the 5th of May) is a holiday that commemorates the Mexican army's victory over the French army in the Mexican state of Puebla.  Though it is not widely celebrated throughout Mexico, it has become a popular holiday in the United States and around the world as a way to celebrate Mexican heritage and pride.
Ingredients
Red salsa or red enchilada sauce
Light sour cream
Grated cheese
Sprinkle taco meat and grated cheese down the center of two flour tortillas.  Roll the tortillas up and place them side by side in a personal-sized baking dish that is lightly coated with baking spray.
Spread salsa verde (or a green enchilada sauce) over the left enchilada and red salsa or red enchilada sauce over the right enchilada.  Sprinkle both with grated cheese.
Bake them at 350 degrees until the enchiladas are warmed through and the cheese is beginning to bubble.  Remove the enchiladas from the oven and let them cool for 5-10 minutes. 
Place a dollop of light sour cream in the middle of the enchiladas.  Serve them warm.
Tags: cheese, chicken, enchildada sauce, red salsa, salsa verde, taco meat