Print This Recipe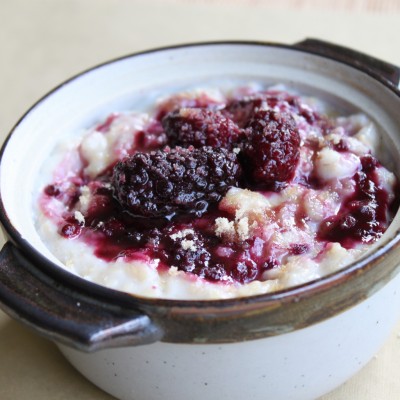 My recent experiment making Apple Cinnamon Oatmeal for breakfast inspired me to mix up my morning oatmeal routine again.  This time, I had some leftover chunky Blackberry Maple Syrup from our Mardi Gras pancake feast.  A couple spoonfuls of that swirled into the oatmeal is the perfect way to start your day.  My breakfast was so good that next time I'll be making  the blackberry syrup specifically for my morning oatmeal!
Ingredients
3/4 cup whole oats
1 1/2 cups milk
1-2 tsp brown sugar
Blackberry maple syrup, to taste
If you don't have leftover berry syrup to use, you will still be stirring it into your oatmeal within a matter of minutes because it is quick and easy to make.
Blackberry Maple Syrup:
1 2/3 cup blackberries, fresh or thawed
1/4 cup maple syrup
1 tsp flour
1 Tbsp water
Gently break up the berries with a wire masher, leaving them chunky so that there is a mix of whole berries, partly broken berries and crushed berries.
Dissolve the flour in the water in a small saucepan.  Stir in the maple syrup.  Then add the crushed berries.  Bring the mixture to a gentle bubbling simmer and let it simmer for 2-3 minutes, being careful not to let it boil vigorously.  Remove it from the heat and serve it warm.
To make the oatmeal, combine the milk and oats in a saucepan and cook at medium heat.  Bring the oatmeal to a gentle boil, stirring it occasionally so that it doesn't stick to the bottom of the pan.  Cook the oatmeal for 5-10 minutes, or until the oats are tender.  (For smooth, creamy oatmeal, be careful not to over-cook it.  I remove it from the heat just when the oats are tender and the oatmeal is still somewhat runny because it will continue to solidify as it cools.)
Remove the oatmeal from the heat and pour it into serving bowls.  Stir in a spoonful of brown sugar and a swirl or two of blackberry maple syrup to taste.
TIP: Making your oatmeal with milk makes the oatmeal creamier and adds a boost of calcium and other nutrients to your morning meal.
Tags: blackberries, brown sugar, maple syrup, milk, oats