Print This Recipe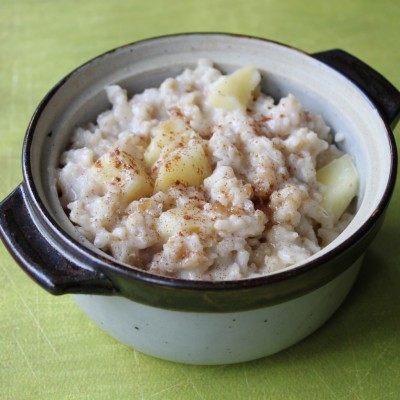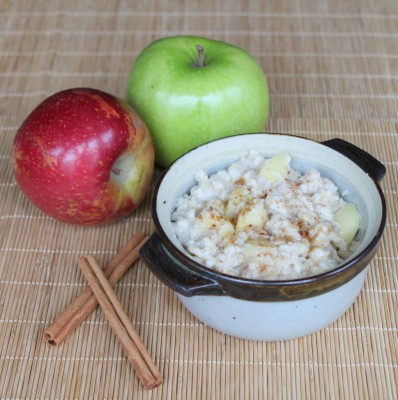 Oatmeal is one of my favorite breakfast foods.  It is quick, satisfying and full of fiber and other nutrients which make it a heart-healthy food linked to lowering cholesterol, reducing the risk of heart disease and even fighting some cancers, among other things. 
Making oatmeal with old-fashioned, whole-grain rolled oats instead of the instant packets really doesn't take much time and allows you to control the amount of added sugar that you consume.  I always cook my oatmeal with milk instead of water.  The milk makes the oatmeal creamier and provides a boost of calcium and additional nutrients to our morning meal. 
We usually eat our oatmeal topped with frozen blueberries, banana slices and brown sugar but I recently had the urge to make apple-cinnamon oatmeal, inspired by one of the traditional instant oatmeal packet flavors.  In the small amount of time that it takes to cook the whole-grain oats, the apple chunks become perfectly tender.  Add cinnamon and brown sugar to taste.
Ingredients
3/4 cup whole oats
1 1/2 cups milk
1/2 -1 cup peeled and chopped apple
1/8 – 1/4 tsp cinnamon, to taste
1-2 tsp brown sugar
Combine the milk, oats, chopped apple and cinnamon in a saucepan and cook at medium heat.  Bring the oatmeal to a gentle boil, stirring it occasionally so that it doesn't stick to the bottom of the pan.  Cook the oatmeal for 5-10 minutes, or until the oats and apple pieces are tender.  (For smooth, creamy oatmeal, be careful not to over-cook it.  I remove it from the heat just when the oats are tender and the oatmeal is still somewhat runny because it will continue to solidify as it cools.)
Remove the oatmeal from the heat and pour it into serving bowls.  Stir in a spoonful of brown sugar and top it with additional cinnamon to taste.
TIP: Cinnamon goes a long way so start out by spicing the oatmeal with a small amount and adding more to taste.
Tags: apples, brown sugar, cinnamon, oats