Print This Recipe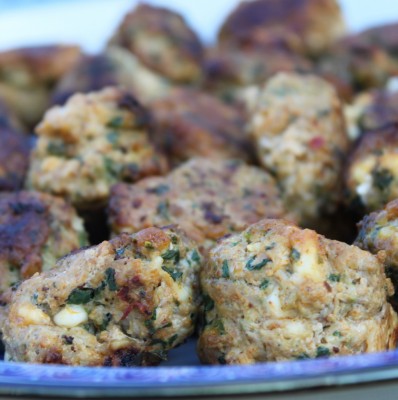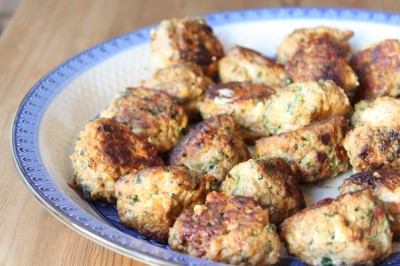 I've received such good reviews about my homemade chicken sausage that I decided to transform it into meatballs.  Spinach is the star ingredient that earned these meatballs a spot on my Tapas For a Cure menu, but I also love the fact that they are made with chicken.  And the feta cheese helps keep them extremely moist.
My family grinds our own meat and we use lean chicken thighs or a combination of thighs and breast meat to help keep the meatballs tender.  We mix all of the spices and dredge the meat in the spice mixture prior to grinding it.  After grinding the meat, we mix in the leftover spices, chopped spinach, chopped parsley and feta cheese crumbles.

Spinach & Feta Chicken Meatballs
Author:
Itsy Bitsy Foodies
Prep time:
Cook time:
Total time:
Spinach is the star ingredient of these chicken meatballs and the feta cheese helps keep them extremely moist.
Ingredients
1 pound ground chicken
1 Tbsp chopped parsley
3 Tbsp finely chopped spinach
¾ tsp garlic powder
½ tsp salt
¼ tsp black pepper
1 tsp paprika
½ tsp crushed red pepper
½ tsp cayenne pepper
¾ tsp fennel seeds
¼ cup feta cheese crumbles
Instructions
Mix all of the ingredients together and form the meat into balls.
Lightly coat a pan with olive oil and heat it over medium heat.
Cook the meatballs for several minutes on each side until they are nicely browned.
Then turn the heat to low and cover the pan to allow the meatballs to cook all the way through.
Tags: chicken, chicken meatballs, feta, paprika, spinach, turkey meatballs