Print This Recipe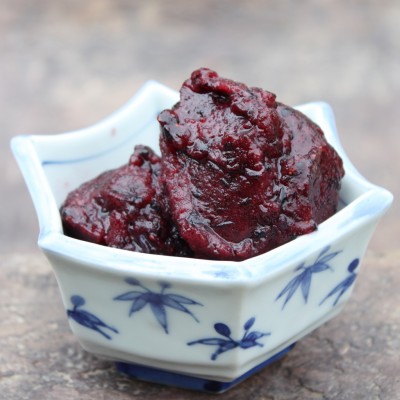 This refreshing sorbet highlights blueberries so it was a natural choice for one of the sweets on my Tapas For a Cure menu. You can add the simple sugar syrup to taste, making the blueberry purée mixture as sweet or tart as you would like.
Ingredients
1 pound blueberries
1 cup water
1 1/2 cups sugar
The juice of 1/2 lemon
To make the simple sugar syrup, bring the water to a boil in a small saucepan. Add the sugar and stir it constantly until the sugar dissolves. Let the syrup cool. (The syrup can be made in advance and stored in a sealed container in the refrigerator.)
Rinse the blueberries with cold water. Purée the berries in a food processor or handheld blender. Stir in the lemon juice and then add the simple sugar syrup to taste.
Churn the blueberry mixture in an ice cream maker, following the instructions of your ice cream maker.
Tags: blueberries, lemon juice, sugar