Print This Recipe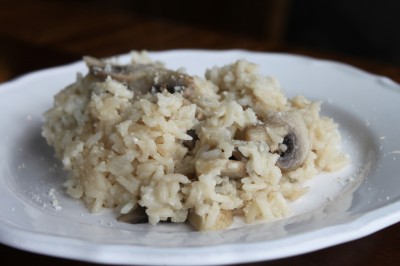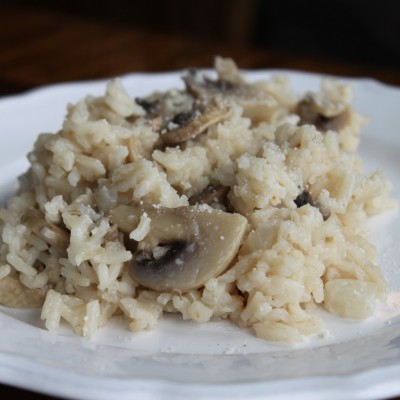 This mushroom pilaf is a comfort side dish but it is surprisingly light.  It is a healthy makeover of a pilaf that I used to love as a child that was made with canned cream of mushroom soup.  Its mild flavors and creamy texture make it a great way to get your family to eat mushrooms.  And it goes well with many main courses, including oven-roasted chicken.
Ingredients
2 tsp butter
1 cup long-grain rice
1/4 cup chopped onion
2 garlic cloves, minced
2 cups low-sodium chicken broth
1/2 -3/4 cup mushrooms slices
1/4 tsp salt
Dash of half and half, optional
Heat the butter in a large pan over medium heat.  Sauté the onions and garlic for 5 minutes, or until they are tender.  Add the rice and continue cooking for 5-7 minutes until the rice is browned.  Stir in the mushrooms and add the chicken broth.  Bring the broth to a boil.  Then reduce the heat to low, cover the pan, and let the rice simmer for 15-20 minutes until it is soft and tender and all of the liquid is absorbed.  At the very end, stir in a dash of half and half for an optional creamy texture.  Garnish the rice with grated Parmesan cheese and black pepper.
Tags: chicken broth, garlic, half and half, mushrooms, onions, rice