Print This Recipe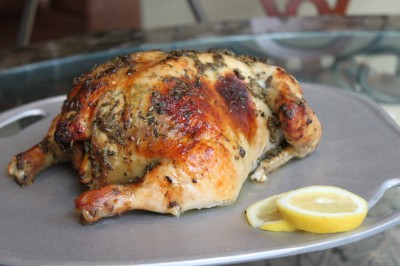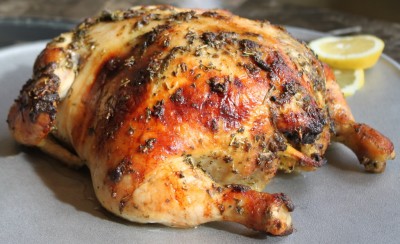 Roasting a whole chicken in the oven or on the BBQ is easier than than you think, it just takes several hours (depending on the size of the chicken).  To keep the meat moist and tender, I recommend basting the chicken every 15-20 minutes with a wine and chicken broth mixture.
This is my take on the roasted chicken that my mom would make for my family when I was a kid.  I love the simplicity of the ingredient list.  The chicken goes well with just about any side dish: mushroom pilaf, roasted potatoes or even homemade french fries.  And the leftover herbes de Provence-infused meat makes yummy sandwiches the following day.

Author:
Itsy Bitsy Foodies
Prep time:
Cook time:
Total time:
There is nothing fancy with this roasted chicken and I love how simple the ingredient list. And yet it produces mouth-watering, herb-infused chicken that is yummy plain or in sandwiches.
Ingredients
1 whole chicken
2 Tbsp butter, softened
2 Tbsp Dijon mustard
2 Tbsp herbes de Provence
Dash of salt and pepper
1 lemon, sliced
1 onion, cut in 8ths
5-7 garlic cloves, peeled and left whole
Basting the Chicken
2 Tbsp olive oil
¼ cup white wine
¼ cup low-sodium chicken broth
1 Tbsp herbes de Provence
Instructions
Mix the butter, mustard and Herbes de Provence in a bowl to form a paste.
Rinse the chicken well and pat it dry with paper towels.
Place it on a roasting pan and spread the Dijon butter paste over the entire chicken, getting it in the cavity and under any flaps of skin.
Stuff the chicken with lemon slices, onion chunks and whole garlic cloves.
Bake the chicken at 350 degrees for 1-2 hours, or until the chicken is done. It usually takes roughly 20 minutes per pound but use a meat thermometer to ensure that the meat reaches a high enough temperature, which is a minimum of 165 degrees for poultry according to the USDA.
For the last few minutes, you can increase the temperature of the oven to 450 degrees to brown the chicken at the end.
If the chicken is getting too browned while cooking, cover it loosely with a piece of foil.
Basting the Chicken
Baste the chicken every 15-20 minutes with the drippings to keep the meat moist.
If there are not enough drippings, combine the olive oil, white wine, chicken broth and herbs to form a basting liquid.
Tags: Dijon mustard, garlic, herbes de Provence, lemon, onion, roast, roast chicken, roasted chicken, whole chicken