Mon, Mar 8, 2010
Around the World, Europe, France, Main Dishes, North America, Pork, Quick n' Easy, Search by Course, United States

Print This Recipe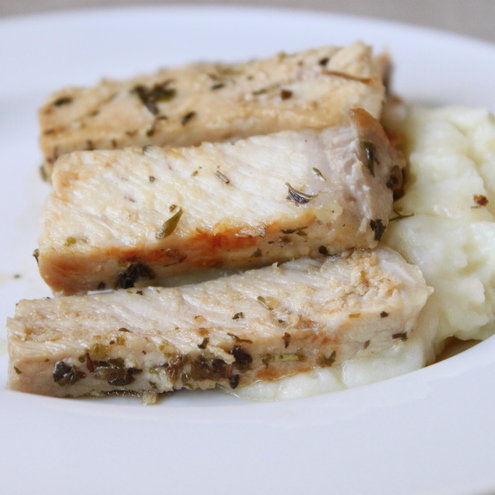 It was a sad day when we went through all of the Herbes de Provence that I brought home from France.  There was something nostalgic about using the herbs from the little burlap spice bag, marked with the seal of Provence, that I hand-selected in a little town near Nice.  Fortunately, you can buy the herb mixture in the states or even make your own.
Herbes de Provence is a mixture of dried herbs from Provence, a region of southern France.  It is often used when grilling fish and meats and makes a great combo with these pork chops.  We like to serve the pork over a spinach salad with avocado slices, tomatoes and feta cheese.  It's also great with garlic mashed potatoes and roasted veggies.

Herbes de Provence Pork Chops
Author:
Itsy Bitsy Foodies
Prep time:
Cook time:
Total time:
Serve these Herbes de Provence pork chops over a spinach salad for a light yet flavorful meal.
Ingredients
2 pork chops, with or without the bone
Olive oil
Salt
Herbes de Provence
1 Tbsp butter
Instructions
Brush both sides of the pork chops with olive oil and coat with salt and Herbes de Provence.
Melt 1 Tbsp butter in a pan over medium heat.
Cook the pork chops for roughly five minutes or until browned, then flip them over.
Cover the pan and continue cooking the pork until the meat is fully cooked. The cook time will vary depending on the thickness of the pork chops.
Serve over a spinach salad or garlic mashed potatoes.
Tags: herbes de Provence, olive oil, pork chops, salt