Mon, Feb 22, 2010
Around the World, Breads, Cooking Projects, Europe, Fun Family Activities, Italy, Main Dishes, North America, Search by Course, United States

Print This Recipe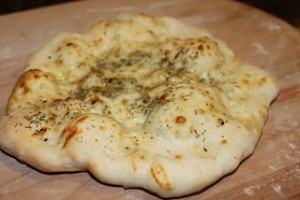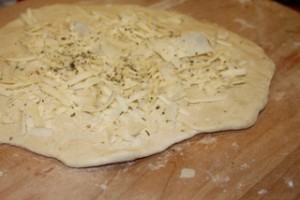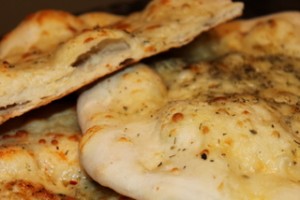 I always like to use our sourdough pizza crust when I have time to make it.  But it is nice to have a back-up pizza crust that is quicker and easier to throw together at the last minute.  This is it!  We still cook it like the sourdough pizza crust — on a pre-heated pizza stone on the BBQ at its highest heat.  But the dough is much simpler to put together.  Using this dough, you can still make a homemade Neapolitan Pizza or a Calzone.
This pizza dough is the crust that my family always made when I was growing up.  It is from a Betty Crocker cookbook.  I just use a little less oil and bake it at a higher heat.  It turns out that Emeril uses the same pizza crust recipe. 
I realize now what a big difference it makes to cook the pizza at a high heat.  The original recipe says to bake it at 400 degrees, which is how we did it when I was a kid, but the result was a thicker, "breadier" pizza.  Our version, cooked more quickly at high heat, has a thinner and chewier texture which is more similar to the Neapolitan-style pizza that we like so much. 
Pictured above is a cheesy pizza bread made with this crust.  I topped it with Monterey Jack cheese, Parmesan cheese, garlic bread sprinkle and crushed oregano.  It was a great addition to our pasta.
Ingredients
1 package of dry-active yeast (2 1/4 tsp)
1 cup warm water
1 tsp sugar
1 tsp salt
3 Tbsp olive oil (I use 1 Tbsp)
3 – 3 1/2 cups bread flour (I use 3 cups so that the dough stays moist.)
Dissolve the yeast in the water and let rest for five minutes.  Once the yeast mixture is bubbling, add the salt, sugar, oil and mix together.  Gradually add the flour until the dough is pliable and easy to work with.  Knead for 5-10 minutes.  Place the dough ball in a greased container and cover with plastic wrap.  Let the dough rise for 1-2 hours until double in size and the indent from your finger remains.
Punch down the dough and divide into three balls.  Working with one ball at a time, pat into a disc and begin stretching out.  If necessary, use a rolling pin to roll the dough into an 8-12-inch round pizza crust. 
Place the crust on a wooden pizza wheel or directly on the baking pan.  Cover with pizza sauce or pistou (pesto), cheese and other toppings.  Remember that less is more with pizza toppings for this style of pizza.
Bake the pizza on a pre-heated pizza stone in the BBQ or in the oven at the highest heat.  If you don't have a pizza stone, you can use a cooking pan with holes.
TIP: To measure the bread flour, use a spoon to scoop it into the measuring cup and level it off with a knife.  The flour gets compacted in the bag so if you scoop the flour directly from the bag using the measuring cup, the flour will be too tightly-packed and you will end up using too much flour.
TIP 2: Place extra dough balls in a bowl covered with plastic wrap or in a sealed plastic container.  They should keep for several days in the refrigerator.  Take the dough out and let it come to room temperature for a couple of hours prior to using.
Recipe source:
Betty Crocker's Breads