Mon, Feb 22, 2010
Around the World, Chicken & Turkey, Daily Buzz Moms, Disguising Healthy Foods, Itsy Bitsy Foodies Sightings, Main Dishes, North America, Sandwiches, Search by Course, United States

Print This Recipe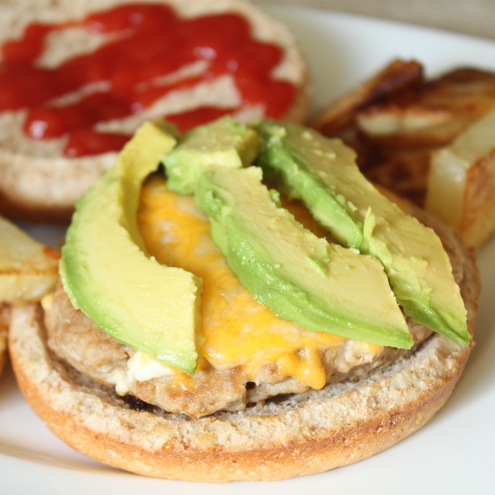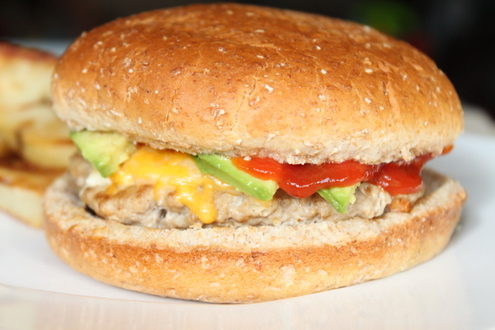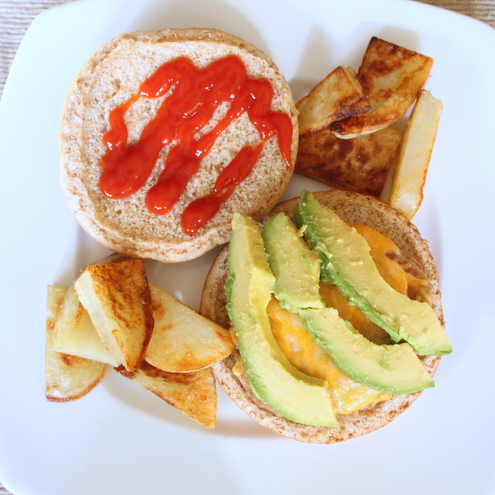 The sun is out and summer has been on my mind so we had avocado turkey burgers for dinner last night.  My fifteen-month old son devoured three-fourths of a giant burger and my husband said that he no longer needs to eat ground beef if this is what ground turkey can taste like!
The feta and Jack cheese add moisture to the burger (I typically go heavy on the feta) and help hold it together while the paprika gives the ground turkey a rich, juicy color.  You can add the seasonings of your choice.  My family likes spicy foods so we sometimes add jalapeño and serrano peppers.  To get your family involved, put everyone in charge of a burger and see what different combinations of seasonings, condiments and toppings you can come up with.
We have broiled our burgers and cooked them on the stove top and they all stay very moist.  With melted cheese on the toasted bun and topped with avocado, these turkey burgers satisfy our burger craving (without the red meat!).

Avocado Turkey Burgers
Author:
Itsy Bitsy Foodies
Prep time:
Cook time:
Total time:
These moist, flavorful turkey burgers will allow you to satisfy your burger craving without having to eat red meat.
Ingredients
1.25 lbs ground turkey
A couple splashes of Tabasco sauce
2 tsp paprika
1-2 Tbsp feta cheese
2 Tbsp shredded Mozzarella, Cheddar or Jack cheese
2 tsp garlic powder
½ tsp black pepper
½ tsp salt
1-2 tsp crushed red pepper flakes
*For a spicier version add 1-2 tsp chopped jalapeño or serrano peppers
Hamburger Buns
Topping Ideas
Avocado slices or guacamole
Blue cheese crumbles
Dijon mustard
Sautéed mushrooms
Sautéed purple onions
Instructions
Mix all of the ingredients in a bowl and form patties.
Cook the patties on the stove top, broil them in the oven or grill them on the BBQ.
In the oven and on the stove top it took about 5 minutes on each side but cook time will vary depending on the thickness of the burger.
Melt a slice of cheese on top of the meat if desired.
Lightly toast the buns on the grill or in the oven. I like melting the cheese on both halves of the bun rather than on the meat.
Top with the ingredients and condiments of your choice.
Serve the avocado turkey burgers with pasta salad or potato salad for the quintessential summer meal.
Tags: avocado, cheese, chicken burger, feta, ground turkey, jalapeno peppers, paprika, turkey burger, turkey burgers