Print This Recipe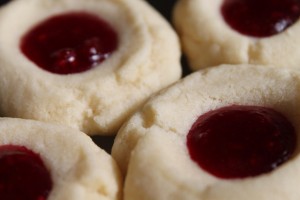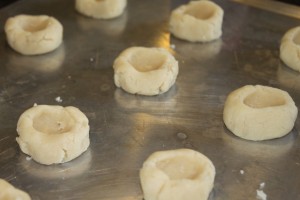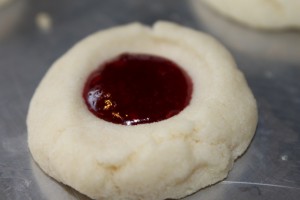 Sweet, light raspberry jam is the perfect addition to these rich, buttery shortbread cookies.  Each bite will have you daydreaming of sunshine and berry patches.
I like filling these cookies with raspberry or strawberry jam but you can use the filling(s) of your choice.  Let your kids help make the thumbprints and choose the fillings.
Ingredients
1/2 cup butter, softened
1 1 /4 cup flour
3 Tbsp sugar
Mix the butter, flour and sugar by hand until the dough forms into a ball.  Make 1-inch balls and place on an ungreased cookie sheet.  Make a thumbprint in each cookie.   I cup my left hand around the dough ball when pressing down with my right thumb to help keep the round shape of the cookie.  You want the indentation to be deep (but not through to the cookie sheet) because the cookies will rise a bit as they bake.   
Bake the cookies at 325 degrees for 15-18 minutes until the bottoms are light brown.
I microwave the jam for 10 or 15 seconds to make it easier to spoon into the cookies.  If you are using an extra thick jam, you can even add a couple drops of water and then microwave it to make it runnier. 
Remove the cookies from the oven and immediately spoon jam or other desired fillings into the thumbprints.  Let the filled cookies cool completely on the baking sheet to allow the filling to set.
Recipe source:
Tags: butter, raspberry jam