Print This Recipe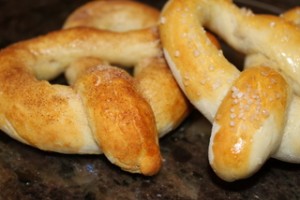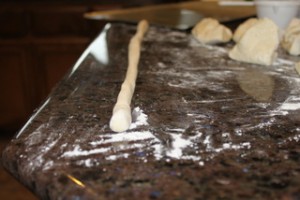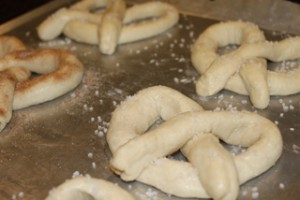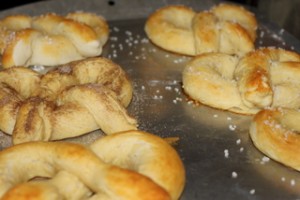 These soft pretzels take me back to my college days and eating my way through Europe.  I devoured a lot of bretzels in southern Germany and Alsace, an eastern region of France.  Bretzels are typically glazed with lye which gives them a dark brown finish.
The following soft pretzel recipe is the American take on bretzels, without the lye finish.  They have a soft chewy texture and are a lot more interesting and flavorful than the generic ball-park/mall versions. 
I recently made them with my 10-year-old niece.  She had fun rolling the dough balls into ropes and forming the pretzels.  Let your kids make different shapes with the ropes (letters of the alphabet and hearts are some of the endless possibilities).
I have had the following recipe for years.  I cut it out of a King Arthur Flour catalog.  The original recipe calls for several specific pretzel ingredients, such as dough relaxer and malt powder, but I have used the substitutes that they recommend.  (To see the original King Arthur Flour recipe, click here.) 
Next time I make these, I would like to try adding one or two tablespoons of sourdough starter to impart the sourdough tang to the pretzels.  I would also like to bake them like we do our pizzas, at a high heat on a pre-heated pizza stone.  I'll let you know how they turn out!
Ingredients
3 cups all-purpose flour
1 Tbsp sugar
1 Tbsp butter or vegetable oil
1 tsp salt
2 tsp instant yeast
1 cup water
Mix the ingredients together and knead the dough until it is smooth.  It should be slightly sticky.  Add drops of water if it is too dry.  Cover the dough and let rest for thirty minutes.
Divide the dough into six balls.  Roll each ball into a 24-inch rope.  Twist each rope into a pretzel (or other shape).  Place the pretzel forms on a greased baking sheet.
Topping:
3 Tbsp water
2 tsp baking soda
2 tsp sugar
Coarse salt or pearl sugar
Cinnamon-sugar (a ratio of roughly 3-4 Tbsp sugar to every 1 tsp of cinnamon)
Mix the water, baking soda and sugar.  Coat the tops of the pretzels with this mixture to help them brown while cooking.  Top with coarse salt or pearl sugar if desired.  I also like to keep some plain so that I can dip them in cinnamon-sugar once they are cooked.
Bake the pretzels at 400 degrees for 12-15 minutes, until the pretzels are beginning to turn golden brown. 
Remove them from the heat and brush them with melted butter if desired.  Serve savory pretzels with cheese sauce or mustard.  If you want sweet pretzels, dip the plain buttered pretzels in a cinnamon-sugar mixture.
Tags: cinnamon-sugar, salt, yeast