Mon, Jan 4, 2010
Appetizers, Around the World, Breads, Cooking Projects, Fun Family Activities, Main Dishes, Mexico, North America, Search by Course

Print This Recipe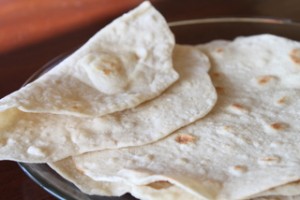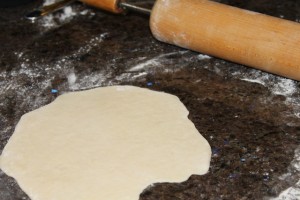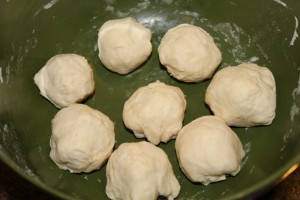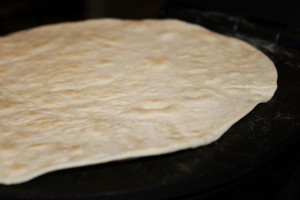 When I eat at Mexican restaurants I am always most anxious to sample the tortillas (corn and flour).  In my mind, homemade tortillas are far superior to the mass-produced store versions and they make all of the difference in a dish!   
I have tried many different recipes, constantly tweaking the ratio and even introducing new ingredients.  After a few successes and many flops, I have stumbled upon the following combination of ingredients.  The result: my best flour tortillas to date! (although I will continue on my quest to perfect them).  They are thin and pliable, yet soft and tenderly chewy.  Serve them with whatever dish you would like.  Let me know what you think!
Ingredients
2 cups flour
¾ tsp baking powder
1 tsp salt
2 tsp vegetable oil
3/4 cup lukewarm milk + water mixture (I do roughly half and half)
Stir the oil into the milk/water.  Gradually add the dry ingredients and stir until it forms a sticky dough ball.  Turn the dough onto a lightly floured surface and knead for about two minutes until the dough is no longer sticky.  Place the dough ball back into the bowl and cover with a damp cloth.  (I lay the damp cloth directly over the dough ball to prevent the dough from drying out.)  Let the dough rest for 20 minutes.
Divide the dough into 8 balls and arrange them so that they don't touch.  Cover the dough balls with the damp cloth.  (Again, I lay the cloth directly over the dough.)  Let the dough balls rest for 20 minutes. 
While the balls are resting, heat a griddle or tortilla press.  Working with one ball at  a time, (and leaving the others under the damp cloth), roll out each ball on a lightly floured surface with a rolling pin.  They should be a little less than 1/4-inch thick.
Place the tortilla on the griddle.  Once bubbles and blisters start to form, cook for 30 seconds – 1 minute longer and then flip.  Repeat on the other side.  The tortillas will start to get golden patches when they are done.
Put the cooked tortillas on a paper towel and cover loosely with a piece of foil.