Print This Recipe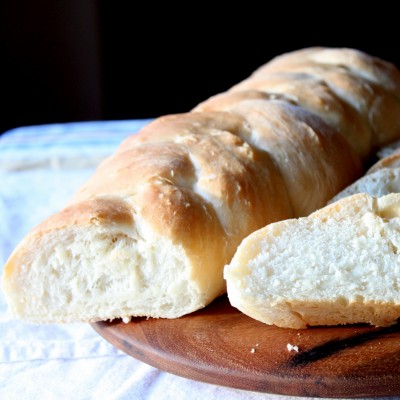 This bread is soft and makes great sandwiches or french toast.  It is also the dough I use for Monkey Bread.  Because it makes two loaves, I like to make one loaf of bread and use the remaining dough to make a smaller batch of monkey bread.
Ingredients
4 -4 1/2 cups flour
4 1/2 tsp yeast (2 packets)
1/4 cup oil
2 Tbsp sugar
1 tsp salt
In a large bowl, combine 2 cups flour and the yeast.  Add the water, oil, sugar and salt.  Beat the dough on low speed for 1/2 minute, scraping the sides of the bowl to incorporate all of the ingredients.  Beat the dough for an additional three minutes on high.  By hand, stir in enough of the remaining flour to make a moderately stiff dough.  (I have found that it is a very wet dough so I usually add up to the 4 1/2 cups total flour and then knead in enough flour so that I am able to handle it.)
Knead the dough for 8-10 minutes or until it is smooth and elastic.  Shape the dough into a ball and place it in a greased bowl, flipping the ball over so that the greased side faces up.  Cover the bowl and let the dough rise until it has doubled, for roughly 1 1/2 hours. 
Punch down the dough with your fist.  Divide the dough in half.  Then divide each half into thirds.  Shape the dough into six balls.  Cover the balls and let them rest for 10 minutes.  Roll each ball into a 16-inch rope.  Braid three of the ropes, pinching the ends together and tucking them under.  Repeat the process with the other three ropes. (*I braid the ropes directly on a greased baking sheet because it is difficult to transfer the braided dough.) 
Cover the braids and let them rise for forty minutes or until almost doubled in size.  Bake the bread for 20-30 minutes at 375 degree until they are golden and done.