Print This Recipe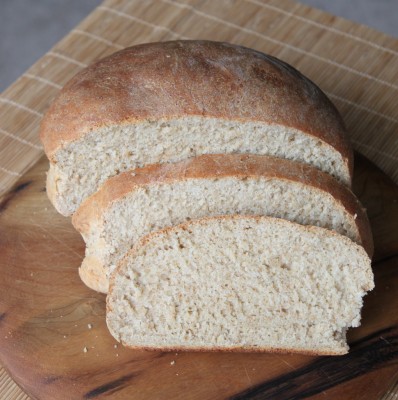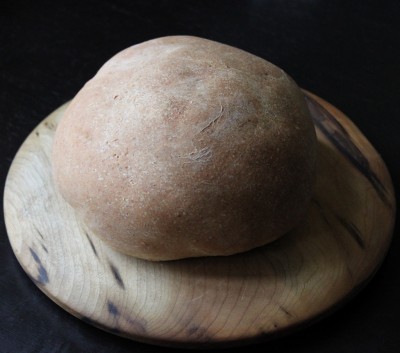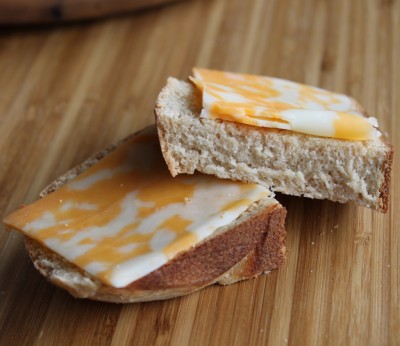 This dense wheat bread was a staple in our household when I was growing up.  It seems like my mom was constantly making it so that we'd have it for sandwiches or to go with soup.  I recently made it when we had Bean Chowder and it also makes yummy grilled cheese sandwiches.  It makes two loaves so you can either freeze a loaf in a Ziploc bag or share it with friends. 
Ingredients
3 1/2 cups bread flour
1 1/2 cups rye flour
2 Tbsp sugar
2 tsp salt
1/2 cup wheat germ
4 1/2 tsp yeast (2 packages)
1 3/4 cup milk
1/2 cup water
1/4 cup butter
In a small saucepan heat the milk, water and butter until the butter has melted and the mixture is warm.
In a large bowl, combine 1 cup bread flour and 1 cup rye flour with the sugar, salt, wheat germ and yeast.  Gradually add the warmed milk mixture to the dry ingredients, beating it for two minutes and scraping the sides to incorporate all of the dry ingredients into the mixture. 
Add 1/2 cup rye flour and as much of the remaining bread flour as needed, a little bit at a time, to form a thick batter.  Beat the dough on high for two minutes.
Turn the bread dough onto a lightly-floured surface and knead it until it is smooth.  Shape it into a large ball.  Place the dough ball in a greased bowl and then turn it so that the greased side faces up.  Cover the bowl and let the dough rise in a warm place for 45 minutes.
Punch down the dough and divide it into two rounded loaves.  Flatten them slightly.  Place them on an ungreased baking sheet, cover them with a towel, and let them rise for 30 minutes in a warm place.
Bake the bread for 25-30 minutes at 350 degrees until the center is done and the tops are golden brown.  The bread should sound hollow when tapped.
Remove the bread from the oven and let the loaves cool on a wire rack.
TIP: To ensure that the bread is cooked, insert a thermometer into the bottom of the bread until it reaches the center of the loaf.  The internal temperature of the bread should be around 190-200 degrees.
Tags: bread flour, rye flour, yeast