Print This Recipe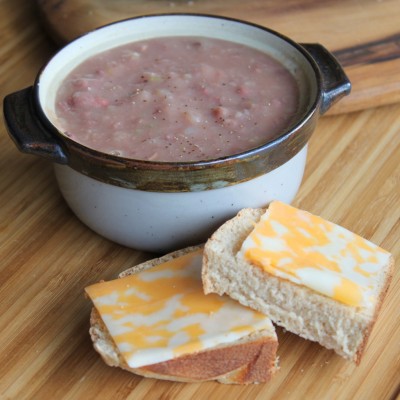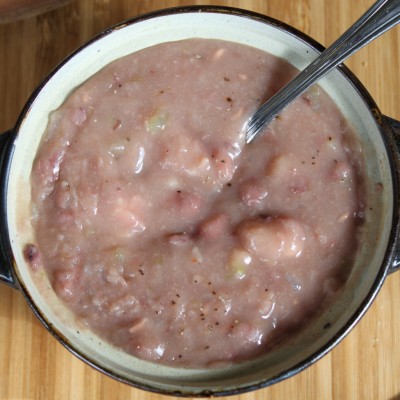 This hearty two-bean chowder is a healthy comfort food, perfect for the cold winter weather we've been having.  Mashing a portion of the beans is a healthy way to make the soup thick and creamy like a chowder.
It makes a large pot of soup so you can freeze the leftovers in small portions for ready-to-go meals later on.  I like to serve the chowder with grilled cheese sandwiches or dense bread such as Norwegian Wheat Bread.
Ingredients
1 cup dry Great Northern white beans
1 cup dry red beans
2 quarts water
1 small smoked ham hock or 1/2 – 1 cup chopped ham, optional
1 cup chopped onion (roughly 1 small onion)
1 garlic clove, minced
¾ cup diced celery (roughly 3 ribs of celery)
¾ cup diced carrot (roughly 3 carrot sticks)
1/8 tsp cayenne pepper
1 1/2 cups milk
Salt and pepper, to taste
Soak the beans overnight in the water.
(*For a quicker soak, bring the beans and water to boil, allowing the beans to boil for two minutes.  Then cover the pot, removing it from the heat and letting the beans stand for one hour.)
The next day or after the quick soak, add the ham hock.  Then cover the beans and the ham and let them simmer for 1 ½ hours.  Remove the ham hock and cut the meat.  Mash a portion of the beans and return them to the soup with the cut meat.  Add the onion, garlic, celery, carrots and cayenne pepper.  Cover the soup and let it simmer for one hour.  Then add the milk and heat the soup, being careful not to let it boil at this point.  Season the chowder with salt and pepper to taste.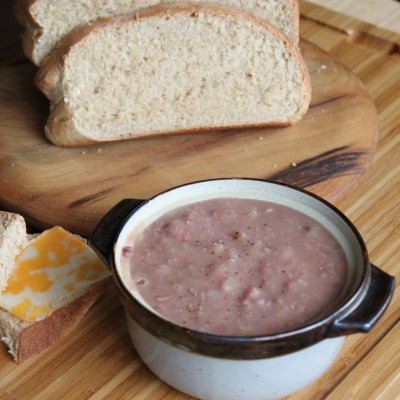 TIP: If you don't want to mess with a whole ham hock, you can simply add 1/2-1 cup chopped ham to the soup after simmering the beans.
Tags: carrot, celery, chowder, ham, milk, onions, red beans, soup, white beans