Tue, Oct 1, 2013
Around the World, Disguising Healthy Foods, Dishfolio, Foodgawker, Itsy Bitsy Foodies Sightings, Mexico, North America, Photograzing, Search by Course, Soups, TasteSpotting

Print This Recipe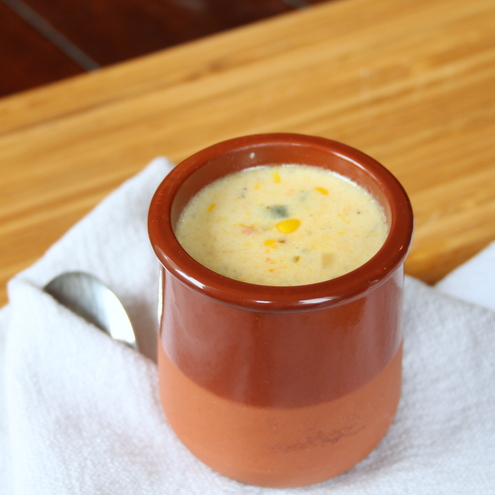 I don't know about you, but with the soggy, windy weather this week we spent the last weekend holed up in the house.  I admit that at moments we went a little stir crazy but deep down I think we enjoyed the excuse to pause and recover from our hectic summer schedule.  It was also a perfect opportunity to spend some time in the kitchen.  Fall is usually a soup season, however, due to the stormy weather it has seemed especially comforting to cozy up with a warm bowl of soup and listen to the pouring rain and wind outside.
We had chicken chorizo, a medley of spicy peppers that we had picked at a local farm, and some corn.  One thing led to another and I decided to make corn chowder with a southwestern kick. The chicken chorizo is optional (we added it to each bowl and enjoyed the chowder both with and without chorizo) and you can tone down the spice by using milder peppers.
*This recipe is adapted from Simply Recipes' Corn Chowder.

Southwest Corn Chowder with Chicken Chorizo
Author:
Itsy Bitsy Foodies
Prep time:
Cook time:
Total time:
Chicken chorizo and a medley of peppers give this southwestern corn chowder a flavor kick.
Ingredients
3 ears of corn, shucked and kernels removed
1 carrot, sliced in small rounds
½ red pepper, chopped
1 onion, chopped
2 garlic cloves, minced
1 Anaheim pepper, chopped
1 jalapeno pepper, chopped, optional
3½ cups milk
1+ Tbsp butter
Chicken chorizo, cooked
Instructions
Remove the corn from the cob by slicing the kernels.
Saute the onion, garlic, peppers in a pot with the butter over medium-high heat for 5 minutes or until the veggies start to become tender.
Add the carrot and sauté for another 5 minutes until the carrot is tender.
Break the corn cobs in half and place them in the pot, adding the milk.
Bring the mixture to a boil and then reduce the heat, cover the pot with a lid, and let the corn cobs simmer in the mixture for about 30 minutes.
Remove the corn cobs, add the corn kernels, bring the soup to a boil, reduce the temperature to low and let the soup simmer for 15 minutes.
Stir in the chicken chorizo if desired.
For a thicker soup, blend ⅓+ of the soup and pour it back into the pot. You could also puree the entire batch of soup if desired.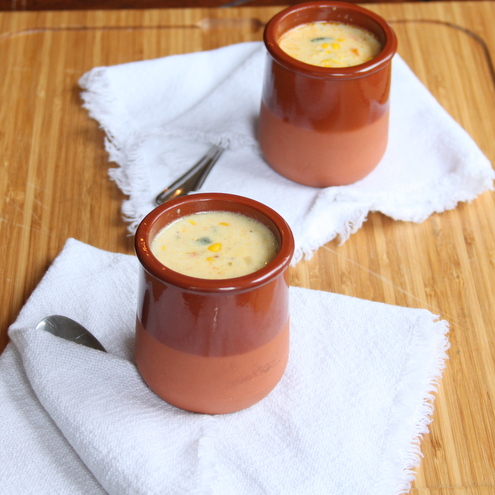 Tags: chicken chorizo, chorizo, corn chowder, corn soup, healthy corn chowder, peppers, soup, spicy corn chowder