Sun, Dec 1, 2013
Breads, DessertStalking, Dishfolio, Foodgawker, Fun Family Activities, Itsy Bitsy Foodies Sightings, Muffins & Quick Breads, Party and Decorative Ideas, Photograzing, Search by Course, Yeast Breads

Print This Recipe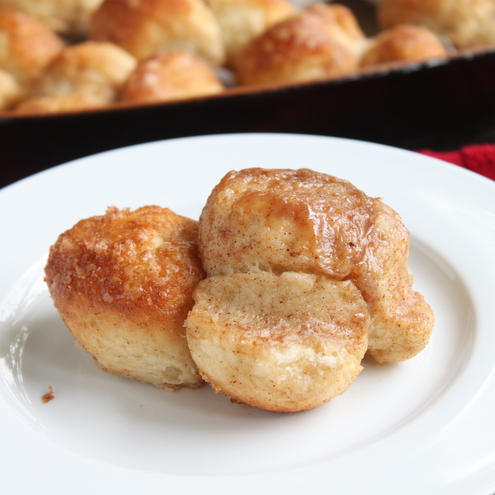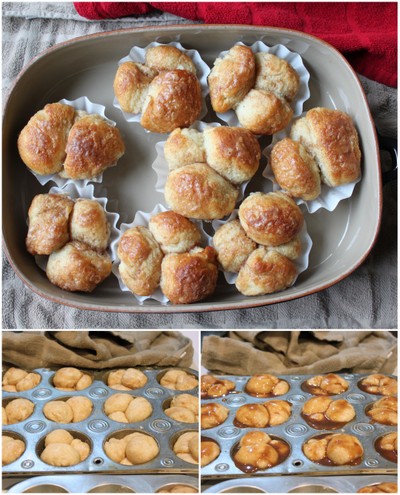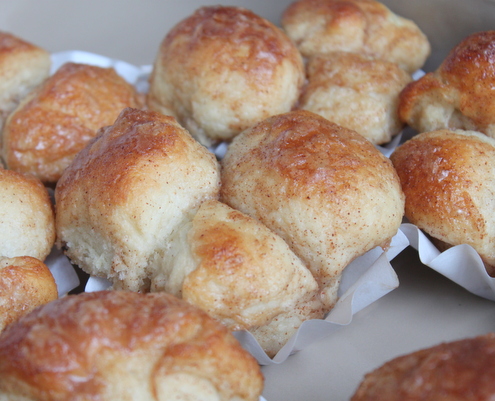 Monkey bread is always a favorite with groups, however, in some settings it is not practical or easy for everyone to literally pull apart from the same loaf of bread.  Earlier this year I made my monkey bread in muffin tins for individual servings that turned out perfectly for a party.  These gooey cinnamon pull-apart breads in miniature make a comforting breakfast treat during these chilly fall and winter months and when baked as personal-sized monkey breads they are a great choice for a holiday brunch.

Monkey Bread Muffins
Author:
Itsy Bitsy Foodies
Prep time:
Cook time:
Total time:
These miniature cinnamon pull-apart breads are baked in muffin tins for individual servings of the popular monkey bread.
Ingredients
1 batch of Basic White Bread Dough (recipe below) or 2 loaves frozen white bread dough
1¼ cups sugar, divided
¼ cup brown sugar
¼ cup milk
1 Tbsp butter
1¾ tsp cinnamon, divided
Basic White Bread Dough
4 – 4½ cups flour
4½ tsp dry yeast
2 cups warm water
¼ cup oil
2 Tbsp sugar
1 tsp salt
Instructions
Mix 2 cups flour and the yeast.
Add the water, oil, sugar and salt.
Beat on low for ½ minute and then on high for three minutes.
Stir in the remaining flour until a moderately stiff dough forms.
Knead the dough on a lightly floured surface for 8-10 minutes, or until it is smooth and elastic.
Shape the dough into a ball and place it in a greased bowl, greased side up.
Cover the bowl and let it rise for 1½ hours or until doubled in size.
Punch the dough down and divide it into half, letting it rest for 10 minutes.
To make the monkey bread, combine 1 cup sugar, brown sugar, milk, butter and 1¼ tsp cinnamon in a small saucepan.
Bring the mixture to a boil and cook it for 1 minute.
Remove it from the heat and let it cool for 10 minutes.
Combine ¼ cup sugar and ½ tsp cinnamon in a shallow bowl.
Cut each loaf of bread dough into 24 equal portions.
Roll each portion into the cinnamon sugar mixture and layer three balls of dough in each greased muffin tin.
Sprinkle any remaining cinnamon-sugar mixture over the "muffins".
Then spoon the cooled sugar syrup over the dough in each muffin tin.
Cover the pan and let it rise for 35 minutes or until doubled in bulk.
Bake the bread at 350 degrees for 15-25 minutes or until lightly browned. Immediately loosen the edges of bread from the muffin tin using a knife.
Carefully lift out the monkey bread from each muffin tin.
TIP: If you are making the bread dough a day in advance, place the covered dough in the refrigerator after the first rising of 1½ hours. The following day, let the dough come to room temperature prior to forming it into the balls.
Tags: bread, cinnamon muffins, cinnamon pull-apart bread, cinnamon roll muffins, individual monkey bread, monkey bread, muffins, rolls, yeast bread