Wed, Feb 16, 2011
Cakes, Cupcakes & Brownies, Desserts, DessertStalking, Foodgawker, Fun Family Activities, Holidays, Itsy Bitsy Foodies Events, Itsy Bitsy Foodies Sightings, Party and Decorative Ideas, Photograzing, Search by Course, Valentine's Day

Print This Recipe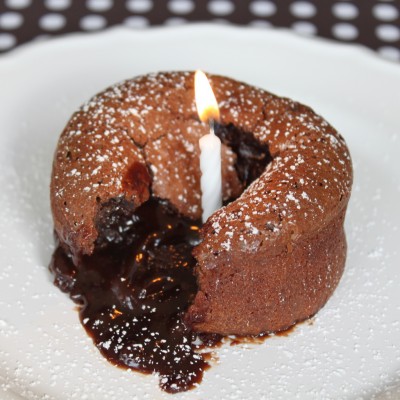 To celebrate Itsy Bitsy Foodies' 1st Birthday I wanted to make something special: chocolate molten lava cake.  In my opinion, the best lava cake comes from Roy Yamaguchi of Roy's so  I was very excited when they sent me the recipe for Roy's Chocolate Soufflé with permission to post it on my site.  What a nice birthday treat!
I love that though this dessert exudes elegance, it is simple and straightforward to prepare.  You can make the batter up to 10 days in advance so that it is all ready to go whenever you want it.  It's perfect for dinner parties, special occasions or after any long day when you need a decadent pick-me-up.  The recipe makes four cakes but they are rich, decadent and perfect for sharing.
I would also like to take this opportunity to thank you all, my itsy bitsy foodies followers and supporters.  Your comments, support and feedback were my inspiration and motivation this past year.  I look forward to another fun food-filled year!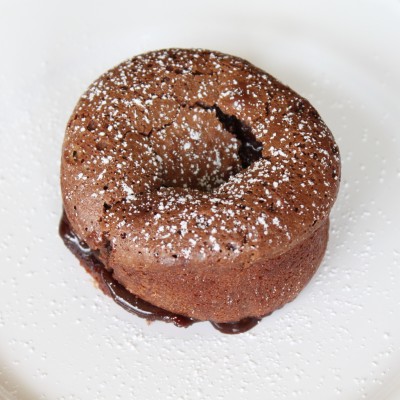 Author:
Itsy Bitsy Foodies
Prep time:
Cook time:
Total time:
Roy's Chocolate Soufflé is the best chocolate molten lava cake, perfect for any occasion when you need a decadent treat. I love that though this dessert exudes elegance it is fairly straightforward to prepare.
Ingredients
4 squares of parchment paper (3x3 inches)
4 strips of parchment paper (2x12 inches)
4 metal soufflé ring molds (3 inches in diameter x 2 inches tall)
I don't have soufflé ring molds so I used individual ramekins lined with parchment paper.
Soufflé Batter
8 ounces semi-sweet dark chocolate (such as Guittard, Vahlrona or Callebeaut)
12 Tbsp butter
1 cup sugar
3 Tbsp cornstarch (*I used flour.)
4 eggs plus 4 egg yolks
Instructions
Soufflé Batter
Combine the sugar and the cornstarch (flour) in a mixing bowl.
In a separate bowl, whisk together the eggs and the additional yolks.
Bring the butter to a simmer in a saucepan.
Add the chocolate and mix until smooth.
Continue to mix until the chocolate begins to simmer along the edges.
Transfer the chocolate mixture to the dry ingredients.
Mix until combined.
Add the eggs and mix at low speed until the mixture is smooth and the sugar has dissolved.
Pour the batter into a pan and refrigerate it overnight.
Pre-heat the oven to 400°.
Line each soufflé ring with a strip of parchment paper and spray it with a pan release such as Pam.
Place the parchment paper squares on a baking sheet and set the molds on top.
Fill each ring mold with soufflé batter ¾ of the way full.
Bake them on the top oven rack for 28-30 minutes.
Remove the baking sheet from the oven.
Slide a metal spatula under each mold and carefully transfer the cakes to individual serving plates using a pair of tongs.
Gently lift off the mold and remove the parchment paper.
Serve immediately.
(Note: Left over batter can be refrigerated for up to 10 days.)
If you don't have soufflé ring molds you can use individual oven-safe ramekins.
Grease the ramekins and then line them with parchment paper.
Grease the parchment paper.
Fill the lined ramekins ¾ full with chocolate batter and bake the cakes as directed. Then remove them from the oven and carefully lift the parchment paper out of the ramekins, gently sliding the cakes onto individual serving dishes.
Recipe source: Roy Yamaguchi
Tags: chocolate molten lava cake, decadent chocolate dessert, eggs, semi-sweet dark chocolate